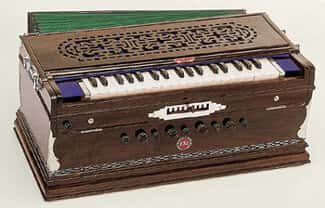 Bina Harmonium 31 Scale Changer in 11 Scales
All Orders Will Be Dispatched in Next 24 Hours.
line_style Category : harmonium
star Rating: 5
nature (SKU : prod_1541)
home Cash On Delivery Available
Description
Bina Harmonium 31 Scale Changer 11 Scale:
The Bina Harmonium 31 is a Scale Changer includes 11 scales. Scale changer is also an easy harmonium with the difference that the keys are not settled over the reed board. The keys are preferably mounted on an adjustable plate which slides sideways making one key placeable on another note. The reed board (hidden under the keys) is the plate on which the keys are fixed and has different holes that are covered using reeds.
---
Product Information:
Manufacturer: Bina
Scale changer
11 scales
9 stops
4 extra notes
Multifold bellows
Special keys
Teak wood cabinet
Vertical reed boar
Coupler
Best reeds
Melodious sound
Harmonium triple reeds
Similar Products
By The Brand
Explore By Categories