Daddario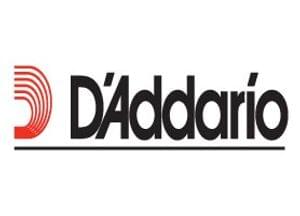 D'Addario is the largest producer of musical instrument accessories and strings, as well as many other orchestral and fretted instruments. The company was established in 1974 in the US. It is a family-controlled and managed business that is one of the largest string makers in the world, not only creating several lines of strings under their own brand names as well as also providing OEM strings for other musical instrument companies. D'Addario also manufactures and deals with other musical accessories under other brands. Products like cables, picks, drum sticks, electronic tuners, capos, earplugs, straps, humidifiers, slides, drumheads, and reeds for woodwind instruments.
List of some D'Addario brand name with products:
D'Addario Guitar Plus: Acoustic, Bass, Electric, Classical, Ukulele, Mandolin, Banjo, Pipa, Ruan, Erhu, Bajo Quinto, Guitarron, Vihuela, Cuatro, Requinto, Cretan Lyra, Cavaquinho, Greek Bouzouki,Viola Brasileira, Baglamas-Tzouras,Oud, Tenor, Dulcimer.
D'Addario Accessories: Tuners, Picks Cables, Capos, and Pick Holders, Straps, Care & Maintenance Tools, Strap Locks, Humidification, Hand Fitness, Mic Stand Accessory System, Guitar Hardware, Loknob, Hearing Protection, Manuscript Paper, Backline Gear Pack, Slides, Acoustic Sound Control.
Evans: Marching Percussion, Drum Set, Band & Orchestra, Custom Drumheads, Practice Pads, World, SoundOff Mutes, Drum Keys.
Promark: Alternative Sound Sources, Drumsticks, Stick Bags & Storage.
D'Addario Woodwinds: Alto Saxophone, Soprano Saxophone, Baritone Saxophone, Tenor Saxophone, Bass Clarinet, Contra Bass Clarinet, Eb Clarinet, Bb Clarinet, Alto Clarinet, Ligatures & Caps, Instrument Care, Reed Care & Storage, Straps, Patches.
D'Addario Orchestral: Cello, Bass, Rosin, Humidification, Violin, Viola, Tuners.
D'Addario proprietary machines, materials, and construction processes, they never stop tinkering and creating more reliable ways to better musicians' expectations. DevMusical brings Daddario Instruments online at an affordable price.