Genelec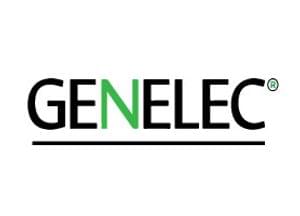 Devmusical is reputed for selling products of top brands of musical instruments, devices and gears. Among these, Genelec is one of the most popular brands that design loudspeaker systems. It designs, produces and sells devices which are perfect for studio recording, mixing, mastering applications, movie production and broadcast.
Every professional finds the products from Genelec extremely useful because they deliver quality. Studio monitors are designed and manufactured so that people can use them for showing their creativity. The wide range of products covers multiple audio applications.
These applications could be anything, from large scale broadcasting to post production studios. You can also use the products in small studio environments because these are perfect for you. The professional studio monitors give an accurate sound reproduction. You can expect outstanding definition, clarity, and neutrality that you have always expected from the studio monitors.
Home speakers from Genelec give you complete privacy to sit in your home and enjoy music like a concert hall. Its wide range of home speakers is designed by experts at Genelec. Every product has been designed for ultimate sound quality, unique & minimalistic design which offers ease of use.