Kat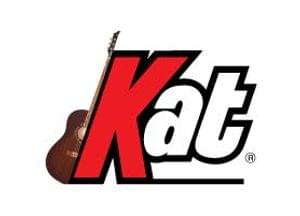 Kat is established in 1985, one of the most famous American Electronic Percussion Manufacturing company. Kat is the famous manufacturer of Cymbal, Pedal, Head Phone, Amplifier, Multipad Drum and Drumbeaters. Kat's leading products include TrapKAT, DrumKAT, and MalletKAT. Now, KAT manufacturing a broad range of full electronic drumsets as well as amplification perfect for the electronic percussionist.
Kat Products:
MALLETKAT: MalletKAT Grand, VibeKAT Pro, MalletKAT Express, MalletKAT Pro, Third Octave Expander, Fourth Octave Expander, VibeKAT Grand,
Digital Sets & Modules: KT3M Sound Trigger/Module, KT4M Sound Trigger/Module, KT2 High-performance digital drum set
KTMP1 Multipad drum,
Digital Amplifiers: KA2 Digital Amplifier, KA1 Digital Amplifier
Kat Pedals: KT-HC1 Hi-Hat Controller - KTMP1, KT-KP1 Bass Drum Trigger, KTHC2 Hi-Hat Pedal - KT3M
Accessories: SKB MalletKAT Express Case, KT2EP2 Cymbal Pack, KT2EP3 Cymbal/pad pack, KT2EP4 Accessory pack, KT2EP5 11 inch Pad Pack, SKB MalletKAT Pro Case, KT2EP1 9 inch Pad pack, KTUI26 Headphones
Millions of consumers are using Kat products across the world. The sound of these Percussion Instruments is a very good report by many musicians. All Kat products are available online at DevMusical at an affordable price. Buy Now!