Washburn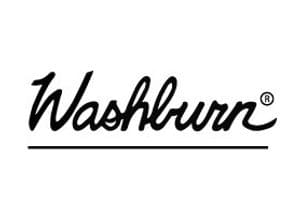 Washburn guitars was established in 1883, Chicago. The founder of company George Washburn continues a legacy of greatness with the first Washburn stringed instruments, bringing quality instruments and maintains the quality of instruments according to the needs of musicians. In 1889, Washburn becomes the largest mandolin producer in America.
In the early 20th century Washburn continues to produce quality guitars, banjos, and mandolins and today dealing in a variety of instruments including:
Acoustic guitars

: Classical, Dreadnought, Folk, Grand Auditorium, Jumbo, Mini Jumbo, Parlor, Petite Jumbo, Orchestra, Studio, Travel or Mini, 6 String Acoustic, 12 String Acoustic, Nylon String Acoustic, Cutaway, Acoustic Bass, Bella Tono series, Comfort series, Apprentice series, Festival series, Harvest series, Heritage series, Timeless series, Rover series

Electric guitars

: Double Cut Solid Body, Double Cut Hollowbody, Single Cut Solid Body, Single Cut Hollowbody, Offset Body, Nuno Bettencourt series, Parallaxe series, Idol series, Hollowbody series, Jazz series, Sonamaster series

Bass guitars

: Electric Bass, Acoustic Bass, Sonamaster, Taurus, Acoustic Bass

Americana instruments

: Mandolin, Banjo, Resonator

Accessories

: Amplifiers, Cases
If you are looking for the Washburn musical instruments than you have landed on the right page, DevMusical offering best deals on musical instruments so grab it today and experience the prominence.