Best Musical Instruments Supplier in India
date_range26-10-2016access_time08:46 PM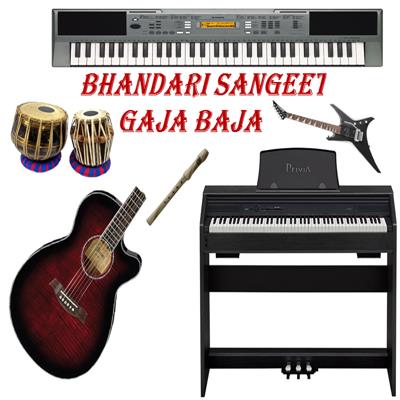 If you are owner of a music school and need musical instruments more often, give us a chance to serve you. Irrespective of your location in India, we deliver musical instruments online. We guarantee for the quality and price, you will get reasonable price on all musical instruments being sold by us.
There were many musical instruments used in India, but nowadays some of them are used by musicians and music enthusiastic people. Here is a list of musical instruments which were famous in ancient time and some of them are used nowadays also -
· Andelu
· Chimpta
· Ghatam
· Ghungharu
· GolKathi (Dancing Stick)
· JalTarang
· Kartal
· KashtTarang
· Manjira
· Nout
· Murchang
· Dramyen
· Ektar
· GetchuVadyam (Gettuvadyam)
· Gopichand (ektar)
· Gotuvadyam
· Katho (Khomok)
· MagadiVina
· NakulaVina
· Rabab (Kabuli Rabab)
· RudraVina
· Santur
· SaraswatiVina (South Indian Vina)
· Sarod
· SeniRabab
· Sitar
· Surbahar
· Surmandal
· Swarabat (Swaragat)
· Tanpura
· Tuntuna (Chohokhode)
· VichitraVina
· Banam
· Chikara
· Dilruba
· Esraj
· Kamancha
· Kenda
· MayuriVina
· Pena (a.k.a. Bana)
· Ravanhasta
· Sarangi
· Saringda
· Tar Shehnai
· Violin
· Charchari
· Chenda
· Daf (Duf, Daphu, Daffali)
· Damaru
· Dhad
· Dhak (Daklu)
· Dhol
· Dholak
· Dholki (Nal)
· Diggi
· Idakka and Udaku (Udakai)
· Goga Dhol
· Gummeta (Dakki, Budike)
· Jaspuria
· Jhorka&Korka
· Kanjira
· Khol (Mridang)
· Madar
· Maddal
· Mridangam
· Nagada
· Nissan, Mawaloti, or Lohati
· Pakhawaj
· PanchaMukhaVadhyam
· Phara
· Pungi
· Sambal
· ShuddhaMadalam
· Tabla
· Tabla Tarang
· Tamak
· Tasha
· Tavil
· ThanthiPanai
· Timki
· Tumbak
· Urumili
· Surpeti / Electronic Tanpura
· LaheraPeti
· Tabla Peti
· MridangamPeti
We sell the best price musical instruments online, from top of the range, Digital Pianos and Midi Keyboards to Electronic Drum Kits, harmoniums and a full range of guitars. We have products in stock for quick delivery to schools, colleges, home, professional recording studios and theatres and individual musician.
Our customers say, that Dev Musical items are best and delivered in quick time. Its our mouth publicity, that makes us one of the best suppliers of musical instruments in India. Whether you have ordered a Guitars, harmonium, Piano, Tabla, Dholak, Drum or any other musical instruments, we deliver your items as quickly as possible for us. Our refund, exchange policy is awesome and you will always find it supportive to you.
Our items are sold all over India including major states such as Maharashtra, Gujarat, rajasthan, Punjab, Delhi, Madhya Pradesh and Uttar Pradesh etc.
We stock electric guitars, acoustic guitars, guitar amps, guitar FX, keyboards, digital pianos, acoustic & electronic drums, cymbals, percussion, microphones, head phones, harmonium, Dholak, Tabla and many more items.