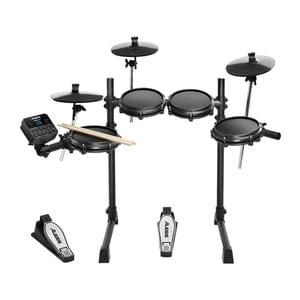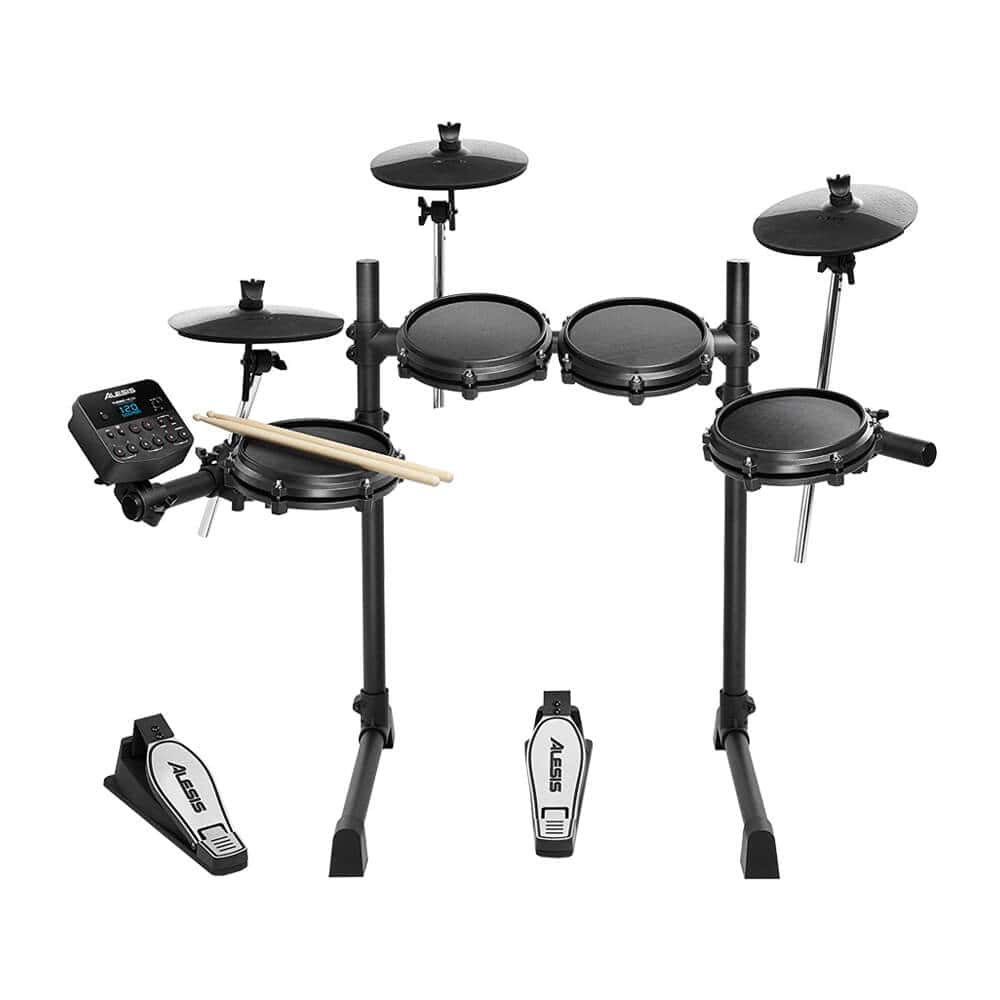 Alesis Turbo Mesh Kit 7 Pcs Electronic Drum Kit with Mesh Heads
All Orders Will Be Dispatched in Next 24 Hours.
line_style Category : Electronic Drums
star Rating: 5
nature (SKU : Alesis_1567424072395)
local_shipping Free Shipping
Description
Alesis Turbo Mesh Kit 7 Pcs Electronic Drum Kit with Mesh Heads
Alesis Turbo Mesh Kit 7 Pcs Electronic Drum Kit with Mesh Heads is introducing with 10 new classic and modern-sounding drum kit presets, custom-designed by Alesis. Turbo Mesh kit includes 120 individual drum sounds and employs Intelligent Dynamic Articulation technology to give incredibly genuine sound and playability. This Alesis drum module can be united to an external sound system or amplifier using its stereo ¼-inch outputs, or you can practice privately using the ⅛-inch headphone output. The drum kit assembled approximately next-generation Alesi's mesh head drum technology. Mesh's heads are the powerful favorite of drummers when they play electronic kits because of their true feel and ultra-quiet response.
This Alesis Turbo Mesh Kit emphasizes an 8-inch mesh snare drum and Three 8-inch mesh toms. It includes everything else you want to make a complete drum kit; three 10-inch cymbals, custom-designed Alesis hi-hat and kicks pedal, and a durable steel rack. Moreover include all the cabling, drum sticks, power supply and a drum key for smooth setup, so you can start playing today. Additionally, built-in metronome, the Turbo drum module also highlights an integrated drum coach, 30 play-along tracks, as well as specially designed rhythmic exercises to help build and improve your skills. Also, a ⅛-inch aux input that allows you to jam out to your favorite tunes from your phone or tablet. This Turbo drum module can further connect to your Mac or PC via the USB-MIDI connection for performance with educational music software, as well as popular recording software and virtual instrument plugins.
---
Product Features:
All mesh drum heads for a quiet yet natural response.

Three 8-inch tom pads with 8-inch snare pad.

Three 10-inch cymbals: hi-hat, crash, and ride.

Kick pedal with Hi-hat pedal.

Exclusive steel rack super solid for flexibility and stability.

Drum sticks, connection cables, drum key, and power supply included.

Modern kits 120 sounds and 10 ready-to-play classics.

30 built-in coach, built-in play-along tracks and metronome features.

CD-MP3 aux input to play your songs.

USB-MIDI connection for recording software and virtual instrument.

Stereo line outputs and headphone output.
Product Details:
Brand: Alesis

Model Number: Turbo Mesh Kit

Snare drum pad: 1x 08-inch Single-zone

Tom pads: 3x 08-inch One-zone

Cymbal pads: 3x 10-inch Single-zone

Pedal: Kick drum and Hi-Hat pedal

Rack Material: Aluminum

Mesh Snare Pad: 8-inch

Mesh Tom Pads: (3) 8-inch

Hi-Hat Pad: 10-inch

Crash Pad: 10-inch

Ride Pad: 10-inch

Includes: Steel Rack, Cable Snake, Cable Wrap Strips, Drum Key, Drum Sticks, Power Supply, Module User Guide, Kit Assembly Guide

Manual: Safety & Warranty

Requirements

For USB-MIDI performance and system updates:

Mac: OS X 10.9 or later

PC: Windows 7 or later

Available USB port

Weight:17.1 Kg

Dimensions: 81.3 x 116.8 x 81.3 cm
Similar Products
By The Brand
Explore By Categories