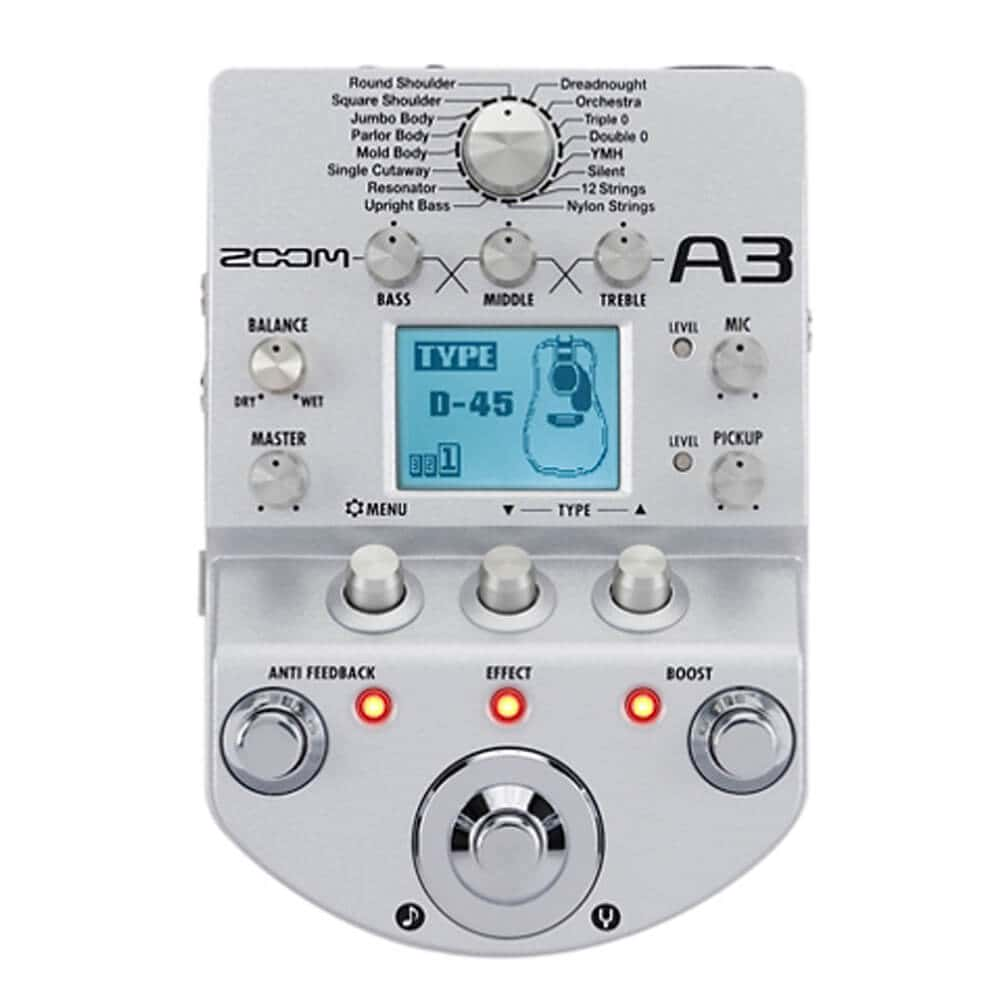 Zoom A3 Acoustic Guitar Preamp and Effects Processor
All Orders Will Be Dispatched in Next 24 Hours.
line_style Category : ACOUSTIC EFFECTS
star Rating: 5
nature (SKU : ZOOM_1575541281362)
local_shipping Free Shipping
Description
Zoom A3 Acoustic Guitar Preamp and Effects Processor
Zoom A3 Acoustic Guitar Preamp and Effects Processor is a strong and easy-to-use assembly that gives everything you want to make your guitar sound like a million bucks. A powerful pickup input with a compensated pickup model selector improvements common concerns with piezo and magnetic pickups. A set of 40 digital effects allow you to add shimmer, depth and complexity to your sound. Plus if your guitar demands a little sonic help, you can pick from 16 body types and 28 traditional guitar models to bolster your sound.
It offers an entire showroom worth of devices and effects to pick from. Pick from 16 acoustic guitar body models to re-create the signature sound of every guitar. Body shapes include orchestra, Triple-0, dreadnought, jumbo, nylon, resonator and more. Or take from 28 of the most beloved, traditional acoustic guitar models ever. Choose from 40 different effects to intensify your sound. Effects add reverb, chorus, compressors, and delay and even detune effects to imitate the sound of a 12-string guitar. A convenient anti-feedback switch prevents feedback with a single stomp. This worthy feature automatically identifies the offending signal and drops it.
It plays a dedicated 1/4 inch pickup input with a pickup selector switch. Respectively setting (Magnetic, Flat, and Piezo) is tailored to compensate for dropping or overpowering frequency ranges common to a specific type of pickup. Consolidate this with the XLR or TS combo jack on the back and you have a processor and preamp which is available for guitar and microphone inputs. This Zoom A3's XLR input is phantom power for performance with your preferred condenser microphone.
---
Product Features:
Acoustic guitar preamp with anti-feedback and onboard effects.

Dedicated 1/4 inch input jack for instruments with pickup type selector.

XLR or TS combo jack features phantom power for performance with condenser mics.

Pick from 16 guitar body types and 28 guitar models.

40 onboard effects include chorus, delay, reverb and more.

Utilize up to 2 effects and 1 acoustic model simultaneously.

Balanced XLR out is exceptional for serving to mixers at live shows

Built-in chromatic tuner.

The advance footswitch can add up to a 12dB boost to your signal.

Save up to 20 personalized patches.

Firmware updates via USB.

8 hours of constant use with 4 x AA batteries.

Power supply incorporated.
Product Details:
Brand: Zoom

Model Number: A3

Effect Types: 40

Model Types: 28

Simultaneous Effects: 2 effects + 1 model

Patch Memory: 20

Sampling Frequency: 44.1kHz

A/D Conversion: 24bit, 128times over-sampling

D/A Conversion: 24bit, 128times over-sampling

Signal Processing: 32bit floating point and 32bit fixed point

Frequency Response: 40Hz to 20kHz

Display: LCD

Rated input level: -20dBm

Input impedance: 1M ohm

Rated input level: -20dBm

Input impedance: 1k ohm

Outputs: R 1/4 inch phone jack

Maximum output level: +5dBm

L/MONO/PHONES: 1/4 inch stereo phone jack

Maximum output level: LINE +5dBm

BALANCED OUT: XLR jack

Output impedance: 100 ohm

Noise Floor: −100dBm

Power AC adapter: DC9V or 500mA or Centre negative

Batteries: AA or LR6 battery x 4

USB: Firmware Update

Battery Life: 8 hours (with alkaline batteries)

Dimensions: 160.3 x 108 x 54.9 mm

Weight: 630g (without batteries)
Similar Products
By The Brand
Explore By Categories