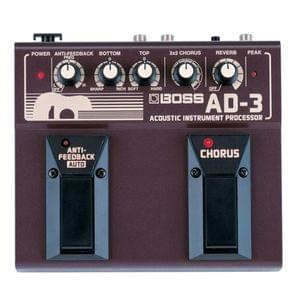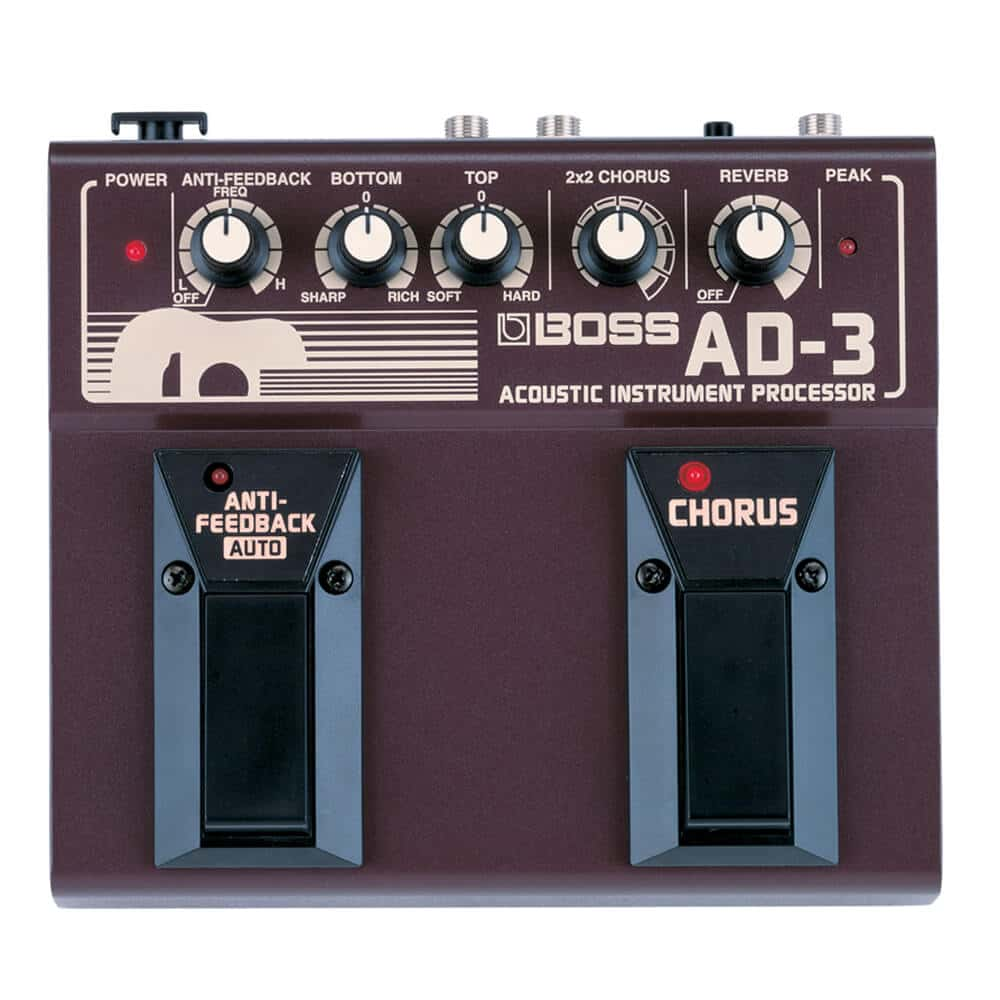 Boss AD-3 Acoustic Instrument Processor
All Orders Will Be Dispatched in Next 24 Hours.
money_offMRP: ₹ 21,351
new_releasesDiscount Available (2 %)
loyaltyYour Price : ₹ 20,924
line_style Category : ACOUSTIC EFFECTS
star Rating: 5
nature (SKU : Boss_1567080313745)
local_shipping Free Shipping
Description
Boss AD-3 Acoustic Instrument Processor
Boss AD-3 Acoustic Instrument Processor pedal solves the problem of thin tone and feedback by giving guitarists a tone, reverb, chorus and Anti-Feedback control in a high-quality compact pedal. It has built-in foot-switchable 2x2 Chorus that provides a smooth effect which can be precisely adjusted using an onboard depth control, adding just the right amount of stereo. Boss AD-3 highlights onboard tone controls, aptly named Bottom and Top. The controls are more advanced from simple EQ knobs that work differently when boosted and cut. The Top knob boosts high-end brilliance or can be used to reduce the thin, dry sound character of most piezo and magnetic pickups.
Boss AD-3 has built-in Anti-Feedback control which can be manually set or set via footswitch to Auto. Also, this pedal offers the perfect tone-enhancing, feedback-eliminating solution. Boss AD-3 features an adjustable Input control for impedance matching to a variety of acoustic-electric pickup types. Plus, its Output section provides a choice between stereo balanced outputs for direct connection to a PA system, or a dedicated Guitar Amplifier output for plugging into a guitar amplifier. The Bottom knob tunes the low frequencies to add the desired amount of body resonance.
---
Product Features :
Foot switchable Bi-Stereo chorus offers split-frequency processing (Low and High) for the natural, smooth chorus effect

Studio-quality Reverb provides clear, deep reverberation specially tuned for acoustic guitar

Newly developed Bottom and Top controls offer variable tonal shaping to eliminate dry sound from piezo pickups and add rich, resonant lows and highs

Special Guitar Amplifier output provides proper impedance and tonal balance for great-sounding connection to a guitar amp

Stereo balanced outputs allow for direct connection to PA

Dual Anti-Feedback function can be manually set to eliminate feedback or can be set to Auto mode via foot pedal

Battery or AC-powered for maximum flexibility
Product Details :
Brand: Boss

Model Number: AD-3(T)

AD Conversion: 20-bit ΔΣ Modulation

DA Conversion: 20-bit ΔΣ Modulation

Sampling Frequency: 44.1 kHz

Nominal Input Level: -10 dBu

Input Impedance: 4.7 M ohms

Nominal Output Level:

Output: -10 dBu into 10 k ohms

Balanced output: -10 dBm into 600 ohms

Connectors:

Input (1/4 inch phones)

Outputs (L, R; 1/4 inch TRS phones)

DC In

Power Supply: DC9V Dry Batteries (LR6 (AA) x 6), AC Adaptor

Current Draw: 90 mA

Item Weight: 1 Kg

Dimensions: 17 x 15.6 x 7 cm
Similar Products
By The Brand
Explore By Categories