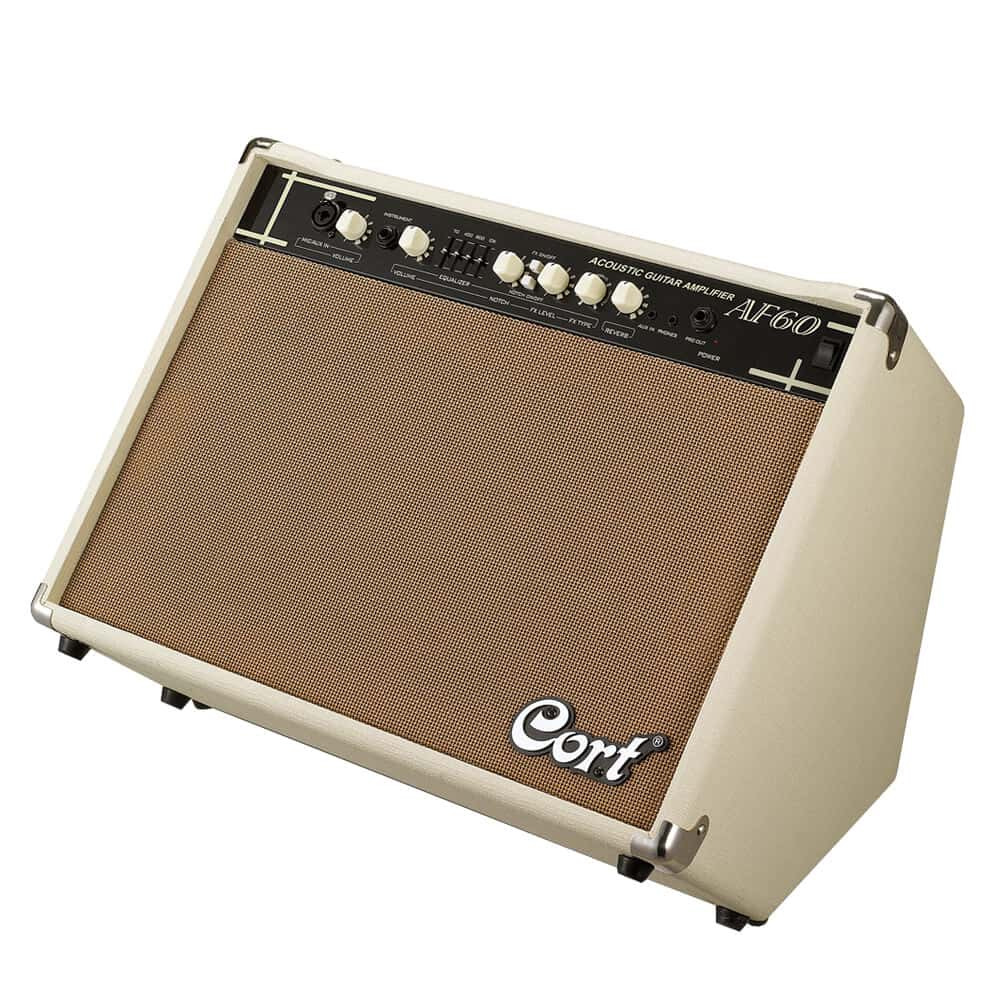 Cort AF 60 Guitar Acoustic Amplifiers
All Orders Will Be Dispatched in Next 24 Hours.
money_offMRP: ₹ 16,024
new_releasesDiscount Available (5 %)
loyaltyYour Price : ₹ 15,223
line_style Category : ACOUSTIC GUITAR AMPLIFIERS
star Rating: 5
nature (SKU : Cort_1593422120107)
local_shipping Free Shipping
Description
Cort AF-60 Guitar Acoustic Amplifiers
---
Cort AF-60 Guitar Acoustic Amplifiers are perfectly designed to provide 60w output power is enough for medium size venues with plenty of headroom and power. Provides you clean solid-state power as well as onboard DSP for rich chorus, delay effects. Perfect for small venues, practice, rehearsals purposes, it will extend the range of your acoustic-electric guitar with high performance, musicality, and value.
---
It comes with the combinations of two 8-inch woofers with a 1 tweeter that gives a balanced sound for from punchy lows with defined with clear highs. It also features a 4-band equalizer that is carefully picked frequency band (70, 400, 800, 10K) that is perfect to bring the natural properties of your acoustic guitar while giving an extended range of sound and tonal character.
---
Plus the onboard Digital Signal Processor chip offers delay, chorus, and delay + chorus effects to combine the spatial dimensions to your acoustic-electric sounds. Any kind of effect and the level of each effect can easily be controlled with the rotary knob.
---
With the switch easily on of off the effect. Cort AF60 gives superb versatility and flexibility with in-out jacks to increase the range of the amp and your instrument. With auxiliary in the CD player or MP3 player, pro-level XLR input, headphones out and preamp out to connect to mixing consoles and PA systems, you can cover any application from training sessions to large venue concerts.
---
Additionally, Cort AF-60 arrives with a tilt-back design that has 2 angles for most excellent sound projection depending on playing conditions. The tilt-back angle is for monitoring the performer sound while the straight angle is typically is used for projecting to the audience.
---
Product Features:
60w output power is great for small venues.

Two 8-inch woofer with a single tweeter for a more balanced sound.

Offers a wide range of sound and tonal character.

Onboard Digital Signal Processor.

For eliminate, any unwanted feedback notch control is included.

Tile-back design optimum sound projection.

It covers virtually any application.

---

Product Details:

Brand: Cort

Series: AF

Model Number: AF-60

Input Voltage: Varies depending on the region

Power Require: 120W

Power Outage: 60W R.M.S.

Rated Load Impedance: 40W R.M.S.

Speaker: Two 8 inch Woofer and one tweeter

Dimensions: 474 x 320 x 305

Weight: 8kg

Manufacturer Warranty: 1 Year
Similar Products
By The Brand
Explore By Categories