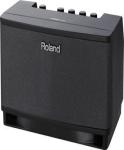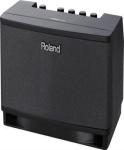 Roland Guitar Amplifier Cube Lt
All Orders Will Be Dispatched in Next 24 Hours.
line_style Category : GUITAR AMPLIFIERS
star Rating: 5
nature (SKU : prod_1470)
local_shipping Free Shipping
sync_disabled(discontinued)
Description
Roland Guitar Amplifier CUBE LT:
The Roland Guitar Amplifier CUBE LT connecting great COSM guitar tones, iOS interfacing and a quality 2.1 Channel audio system. The CUBE Lite Guitar Amplifier lets you operate and record at home with your iPhone, iPad or iPod touch.
---
2.1 Channel Audio System for Impressive Sound
The CUBE Lite's powerful 2.1 Channel audio system produces a rich, full sound that belies the amp's compact footprint. When you need to prepare silently, just plug in a collection of headphones to reduce the onboard speakers.
CUBE JAM App
The free Roland CUBE JAM app transforms your iOS device into a fun control centre for jamming, recording and learning. Playback commercial songs and minus-one tracks through the CUBE Lite via i-CUBE LINK and riff along for hours with impressive COSM tones.
Direct Mode
The CUBE Lite Guitar Amplifier into CUBE JAM or another app attracts the sound as you listen to it, with the COSM tone implemented. Recording dry tracks in this style gives you the choice to search later by "re-amping" with any guitar app of your selection.
Stylish Design for Modern Living Spaces
In addition to being an excellent guitar amp, it also doubles as a high-quality playback method for your digital music library. With three different surfaces to separate from (black, white, or red), you are assured to find the accurate match for your home furnishings.
Easy iOS Device Integration with i-CUBE LINK
The CUBE Lite Guitar Amplifier lets you combine your iPhone, iPad or iPod touch with your axe in a simple and satisfying way-through a stable amp with excellent tone. With i-CUBE LINK, you just attach to your device's audio jack with the inserted cable, then combine the COSM tones and iOS audio together at the amp with simple, automatic controls.
---
Product Information:
Brand: Roland
Model number: Cube Lite.
Speakers: 7.5 cm (3 inches) x 3.
Indicator: Amp Type.
Power Supply: AC adaptor (DC 5.7 V).
Current Draw: 1000 mA.
Width: 250 mm, 9-7/8 inches.
Depth: 147 mm, 5-13/16 inches.
Height: 135 mm, 5-6/16 inches.
Weight: 1.7 kg, 3 lbs. 12 oz.
Amp Types: JC Clean, Crunch, Extreme.
Control (i-CUBE Link/Stereo AUX IN): Volume knob.
Rated Power Output: 10 W
Nominal Input Level: -10 dBu.
Nominal Input Level i-CUBE Link/Stereo AUX IN -10 dBu.
Controls: Chorus/Reverb knob, Power switch, Amp Type switch, Drive knob, Treble knob, Volume knob, Bass knob.
Similar Products
By The Brand
Explore By Categories