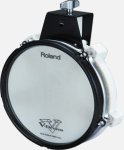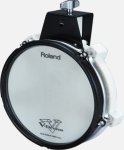 Roland Pd 80 R Mesh V Pad
All Orders Will Be Dispatched in Next 24 Hours.
line_style Category : product
star Rating: 5
nature (SKU : prod_1981)
local_shipping Free Shipping
sync_disabled(discontinued)
Description
Roland Pd 80R Mesh V Pad:
Whether you are looking for a natural feel or a near silent drum performance, the all new Roland PD 80R mesh V pad is the best option. It allows ultra sensitive triggering with clear strums and excellent value of impressive beats. It delivers superior quality and exceptional performance. It's the ideal solution with features of high quality components and extraordinary looks. It involves latest innovation, effective and skilful powerpack components to make presentations perfect for vocal applications. To make the Mesh V-pad more versatile, the standard 8 inch size helps you to play easily with brushes. It is hence an ideal Pad for DJs, vocalists and Karaoke performances using drums.
---
Down below are the specifications for the device-
Audio quality and excellent value.
Transparent beats.
8 inch size.
Natural feel.
Near silent features.
Impressive features.
Ultra sensitive triggering.
Compatible with V drums.
Rubber coated rim.
Similar Products
By The Brand
Explore By Categories