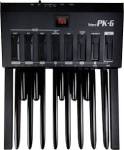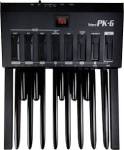 Roland Pk 6 Dynamic Midi Pedal
All Orders Will Be Dispatched in Next 24 Hours.
line_style Category : product
star Rating: 5
nature (SKU : prod_2016)
local_shipping Free Shipping
sync_disabled(discontinued)
Description
Roland Pk 6 Dynamic Midi Pedal:
Bring on the Roland PK 6 Dynamic Midi Pedal and put the excitement and versatility of live performance with full MIDI control within your reach. The device has an impressive MIDI Controller that enables you to virtually control any MIDI function during live performances. It lets you play a variety of sounds from any external MIDI device, thus leaves your hands free to play your own favorite music instrument like guitar, bass, keyboard or accordion.
---
Down below are the specifications for the product-
13 velocity sensitive pedal keys.
One-foot operation of four separate performance modes.
Easy and comfortable user Interface including.
7 segments x 3 display.
Equipped with HOLD, OCTAVER BASS and PORTAMENTO switches.
EXTERNAL PEDAL socket.
PK-OUT socket for direct connection to instruments.
Similar Products
By The Brand
Explore By Categories