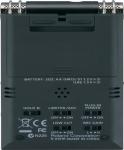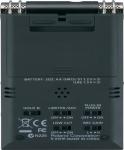 Roland R 09 Hr High Resolution Wave Mp 3 Recorder
All Orders Will Be Dispatched in Next 24 Hours.
line_style Category : product
star Rating: 5
nature (SKU : prod_2031)
local_shipping Free Shipping
sync_disabled(discontinued)
Description
Roland R 09Hr High Resolution Wave Mp3 Recorder:
We bring to you Roland's R series revolution, The R 09HR Wave MP3 recorder with a professional, high-resolution recorder that can even travel light and perform like a heavyweight. It has an amazing crystal-clear fidelity of 24/96 with analog limiting, remote control and handy preview speaker. It has proved itself as a flagship of Roland's award-winning R-series recorders. The credit goes to its rubberized body and snugly fits with comfortable working in hand. It has extreme minimizing handling noise capabilities as it is designed entirely to let you record live sound easily at high quality. Thus the R-09HR is a portable dream​​in the hands of any musician.
---
Down below are the specifications for the product-
24-bit/96kHz linear PCM high-resolution.
Low-noise recording.
Newly developed Isolated Adaptive Recording Circuit.
High-grade.
High-sensitivity stereo condenser microphone.
Records to SD or SDHC memory card.
Compact, hand-held design for convenient portable use.
Large, wide-view OLED
Wireless remote controller included
Similar Products
By The Brand
Explore By Categories