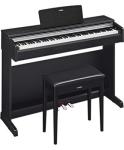 Yamaha Arius Ydp 142R Digital Piano
All Orders Will Be Dispatched in Next 24 Hours.
line_style Category : Digital piano
star Rating: 5
nature (SKU : prod_1512)
local_shipping Free Shipping
sync_disabled(discontinued)
Description
Yamaha Arius YDP 142R Digital Piano:
The Yamaha Arius YDP-142R digital piano produces authentic piano touch and tone fit for any ambitious pianist. The Graded Hammer Standard (GHS) action creates proper fingering system for a smooth transition to playing on acoustic pianos. PureCF sampling presents significant recordings of Yamaha's CFIIIS 9-foot concert grand piano. Damper Resonance digitally recreates acoustic piano depth when pedalling, while Yamaha's particular Intelligent Acoustic Control assures a full, balanced tone at any volume.
---
Product Specification:
PureCF sampling begins with a precise recording of Yamaha's acclaimed CFIIIS 9' concert grand piano.
A weighted action with bigger touch in the low end and lighter touch in the high period is just like the hammers inside an acoustic piano.
Continuous or half-damper pedal switch presents detailed distinction and elegance experienced when pedalling on a grand piano.
Damper Resonance digitally represents the sympathetic interaction between strings on acoustic pianos.
The order of Acoustic Optimizer and digital technologies presents an amazingly expressive capability.
The built-in, 2-track song recorder is a fabulous way to attract a performance and present it back to catch your progress.
Connect two Voices commonly, like piano and strings, for an exciting new playing experience.
Prepare as much as you need before unplugging the headphones to let others hear your progress.
50 classic piano songs are presented in the built-in song memory and more as a music book, "50 Greats for the Piano".
Gives enough horsepower for dropout-free performances also while layering two Voices and playing two-handed, supported chords with large pedalling.
Product Information:
Brand: Yamaha
Model number: YDP-142R
Width: 1,357mm (53-7/16")
Height: 815mm (32-1/16")
Depth: 422 mm (16-5/8")
Weight: 38kg (83 lbs., 12 oz)
Number of keys: 88
Touch Sensitivity: Hard/Medium/Soft/Fixed
Number of pedals:3
Functions: Damper, Sostenuto, Soft
Language: English
Piano sound: Pure CF Sound Engine
Number of Polyphony: 128
Number of Voices:10
Number of Preset Songs: 50 Piano Preset Songs , 10 Demo Songs.
Amplifiers: 6W x 2
Speakers: Oval (12cm x 6cm) x 2
Power Supply: AC power adaptor
Power Consumption: 9W (when using the PA-150)
Similar Products
By The Brand
Explore By Categories