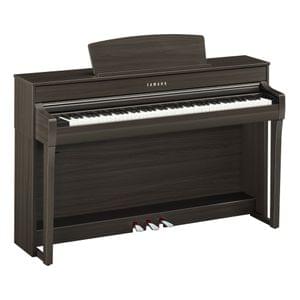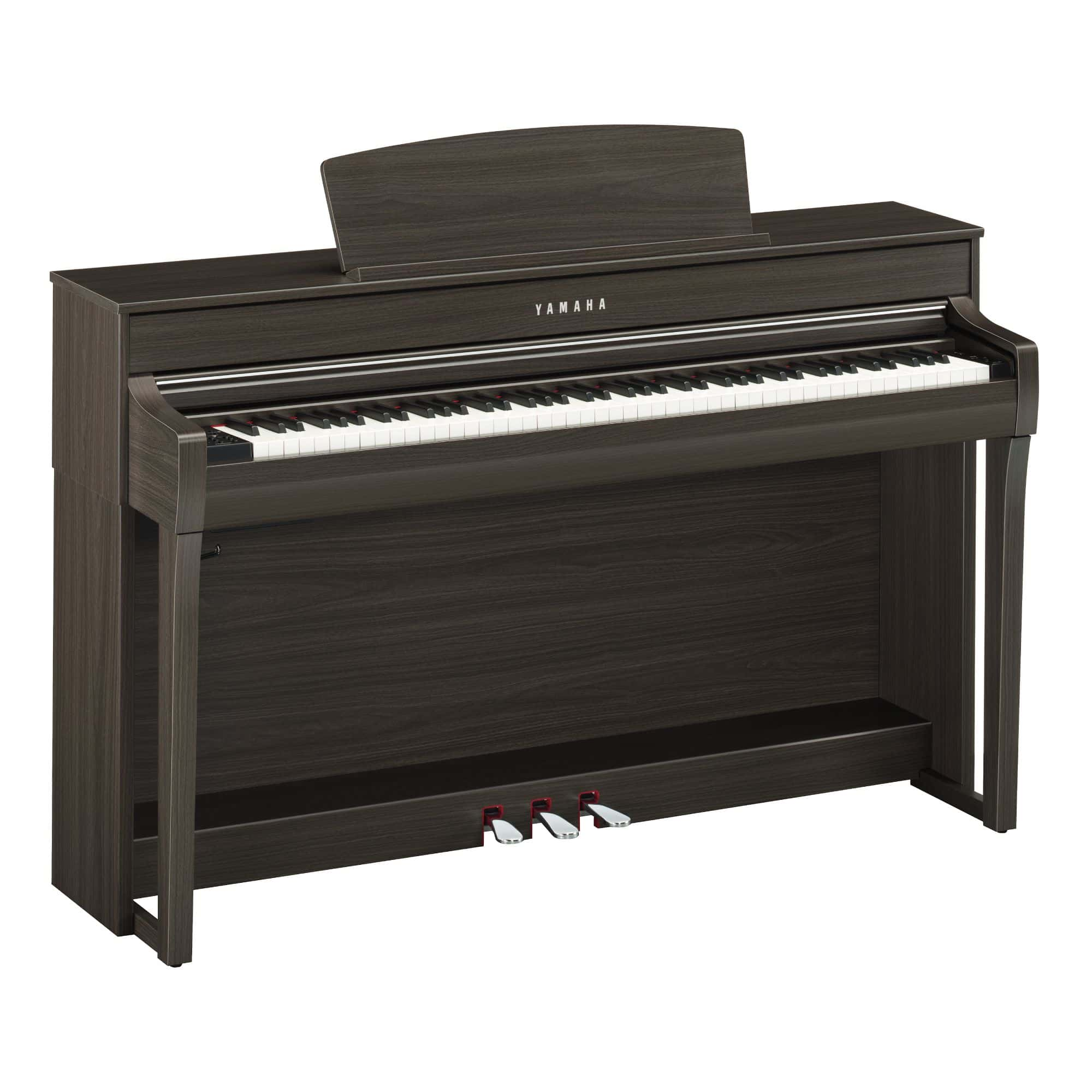 Yamaha Clavinova CLP-745 Dark Walnut Digital Piano with Bench
All Orders Will Be Dispatched in Next 24 Hours.
money_offMRP: ₹ 189,990
new_releasesDiscount Available (10 %)
loyaltyYour Price : ₹ 170,991
line_style Category : Digital piano
star Rating: 5
nature (SKU : YAMAHA_1603264221144)
local_shipping Free Shipping
Description
Yamaha Clavinova CLP-745 Dark Walnut Digital Piano with Bench
Yamaha Clavinova CLP-745 Dark Walnut Digital Piano is perfectly designed for your home, offer you amazing realistic sound and playing feel with a traditional upright cabinet. It comes with Yamaha's extremely responsive GrandTouch S keyboard with simulated Dark Walnut ivory keytops and escapement, wooden Dark Walnut keys, that wick moisture away from your fingers for improved playability. Clavinova 88-key graded hammer action assures a genuine grand piano feel, while large keys give an exceptionally delicious playing experience.
---
GrandTouch keyboard
Yamaha GrandTouch keyboard features a faithful response to every nuance of touch and a wide dynamic range that sets a broad range of tone from gentle to strong at the player fingertips. This is extremely consistent grand piano hammers gives the delightful response appeared during the hammers hit the strings, allowing accurate control of the tone. Highly absorbent synthetic-Dark Walnut Dark Walnut keys and synthetic-ivory Dark Walnut keys keep slipping also during extensive play and feel.
---
Leverage your creative expression
While operating a digital piano, the back area of the keys may prove to be a challenge to full musical expression. This is because the back of the key is closest to the fulcrum of the action. GrandTouch larger length keys give the performers extra support, allowing for better creative control, even at the backs of the keys.
---
88-key Linear Graded Hammers
Each key on a superb piano keyboard is weighted differently. The strings for every note are slightly shorter and thinner in the treble register, making longer and thicker towards the bass register. Outstanding 88-key Linear Graded Hammers of the Clavinova is truly replicate this graded touch with differing weights and key return on per one of its keys. Hence resulting in a feel and response that is astonishingly like that of a grand piano and lets performers gain an attraction of a more authentic touch.
---
Key Counterweights
Counterweights are set in the keys to balance the weight of the hammers and give more accurate control while operating carefully at low volumes. This Clavinova also features precisely adjusted counterweights for enhanced playability when playing pianissimo with a soft touch, plus reliable key return in fast passages. The Clavinova is nice tuned to give optimal balance, featuring its magnificent playability and grand piano response.
---
Escapement Mechanism of Clavinova keyboards
It comes with an escapement mechanism that represents this sensation close to the bottom of the key dip. It has been invented in such a way that the click is audible only on the most superficial keystrokes. The CLP-78 adjusted to give extra friction that balances key response and repetition without impeding performance.
---
GP Response Damper Pedal
It also features a damper pedal that constantly identifies depression depth and lets half-pedaling, which allows performers to make minute adjustments to pedal changing the depth, depression and return, and character of their piano sound.
---
Design philosophy
Clavinova pianos possess great playability and handy functions, along with an authentic, elegant design that combines a compact form with stylish aesthetics in a way befitting the instrument that sets the modern standard for pianos. Undesired elements are extracted from the performer's field of imagination to produce a convincingly natural space that senses just like sitting at an acoustic piano.
---
Touch sensor control panel
A high-quality touch panel only displays text while it is on when the panel is off, it has the uniform finish of a key block.
Grand Expression Modeling
The cooperation and interaction of the dampers, hammers, and strings to the most complex nuances of the pianist's touch, producing an infinite range of tonal expression. Touch belongs to the pianist's control, not only of power (loudness/softness) in operating and delivering the keys but also of the depth and speed with which the keys are pushed. Grand Expression Modeling exceeds at truly reproducing the output demanded of these techniques in various well-known songs. This CLP-700 Series translates the broadly varied input from the pianist's fingers into the same endless tonal variation of a grand piano.
---
Sound Quality
Clavinova CLP-745 grand piano is loaded with voices that are sourced from hand-selected, premium Yamaha CFX and Bosendorfer Imperial concert grand pianos harmonized to supremacy by top expert piano tuners. Artists around the world are fascinated with the exciting, dazzling, richly powerful sound of the CFX in concert halls. Added sampled concert grand is the Imperial, the flagship model of Bosendorfer, a time-honored Viennese piano brand with an enthusiastic following. This Imperial is famous for its wealth of color and natural, passionate feeling. Yamaha constantly reproduces the characteristics of these concert grand pianos by precisely recording the complete tonal range of each of the 88 keys, delivering minute adjustments to obtain the most harmonious tones each piano has to offer.
---
Virtual Resonance Modeling
Yamaha Clavinova pianos perfectly reproduce this bright sensitive resonance through an innovative technology called Virtual Resonance Modeling (VRM). VRM produces a well-varied sound by affecting the complicated sympathetic tones created while the vibrations of the strings are produced to the soundboard and other strings, corresponding to the timing and power of key playing and pedaling. This CLP-700 Series piano is famous to replicate the sounds of the dampers, make when they are raised off the strings, in addition to the resonance of the duplex scaling, strings, soundboard, and case. Clavinova pianos let you experience the same deep sympathetic sounds and momentary dynamics that are created by the complete body of a grand piano.
---
Fully Immersive Concert Grand Experience
Yamaha Clavinova CLP-745 speaker positioning and body materials are carefully calibrated to assure that the piano resonates optimally. To obtain a sonic image deep close to grand pianos, it uses tone exhaust ports in various locations throughout the council; it enables the sound from the speakers to be projected naturally to the listener's ears without getting caught inside the instrument. The special body of the CLP-745 has Acoustic Optimizers that manage the tone and improve the flow of sound, for smooth, natural sonic abundance across the complete keyboard range.
---
Product Features:
88-key Linear Graded Hammers the initial digital piano keyboard ever to feature pragmatic weighting on every key.

Yamaha advanced Grand Touch keyboard action emphasizes a wide dynamic range and faithful response.

GP Response Damper Pedal subtly alters the nature of a piano's sound.

Clavinova pianos possess great playability and versatile functions.

Touch sensor control panel with a smooth finish of a keyblock.

Interplay and interaction of the dampers, hammers, and strings inside a grand piano react to the subtlest nuance.

Recently sampled Yamaha CFX and Bosendorfer Imperial voices.

Virtual Resonance Modeling produces a largely varied sound by affecting the complex sensitive tones.

Leverage your creative expression with keys shows to be a challenge to full musical expression.

It comes with Counterweights are set in the keys to balance the weight of hammers.

Escapement mechanism delivers a slight clicking sensation while the keys are touched gently.

Sturdy 256-note Polyphony for probably rich sonic nuance.

2 stereo headphone jacks; perfect for quiet late-night duets.

It comes full of 20 different and simple rhythm patterns.

MIDI and Bluetooth audio allowed you to connect with your smartphones to play music or combine with Yamaha's Smart Pianist app.

Double, and Divide keyboard modes for instrument splits and teacher-student interaction.

Multi-track Song Recorder allows you to record your performances.

Allows to record up to 16 tracks for simultaneous playback.

Included 50 Classical Music Masterpieces book with piano bench.

---
Product Details:
Brand: Yamaha

Model Number: CLP-745

Series: Clavinova CLP

Colour:

Dark Walnut
Keyboard
Number of keys: 88 Key

Type: GrandTouch keyboard

Action: Hammer action

Key size: Full

Key Type: Piano-style

Number of Pedals: 3: Damper

Display Type: Full Dots LCD

Display Size: 128 x 64 dots

Panel Type: Touch sensors

Cabinet Key Cover: Key Cover
Sounds
Number of voices: 53

Polyphony (max): 256

Layers: Yes

Split: Yes

Number of Polyphony (Max.): 256

Preset Number of Voices: 53 voices + 14 Drum/SFX Kits + 480 XG voices

Compatibility: GS (for Song playback), XG (GM), GM2 (for Song playback)

Number of Preset Songs: 25 voice demo songs + 50 classics + 303 lesson songs
Connectivity
AUX input: Yes

MIDI connectivity: In/Out/Thru

USB Connectivity: Yes

Headphone jacks: 2

Pedal inputs: 3

Storage type: USB
Onboard Features
Recording/Playback Yes

Display: Yes

Effects: Yes

Built-in speakers: Yes

Pitch bend/Modulation: Pitch bend

Other controls: Yes
Other
Tempo Range: 5 - 500

Tuning: 414.8 - 440.0 - 466.8 Hz

Rhythm: 20

Bluetooth: Audio/MIDI (varies by country)

Amplifiers: (50 W + 50 W + 50 W) x 2

Speakers: (16 cm + 8 cm) x 2

Power Consumption: 60 W (When using PA-500 AC adaptor)

Power adapter: Included

Stand or bench included: Bench

Height:40.5 inch

Width:57.5 inch

Depth:18.75 inch

Weight: 83.9 Kg

Manufacturer Warranty: 3 Years
Similar Products
By The Brand
Explore By Categories