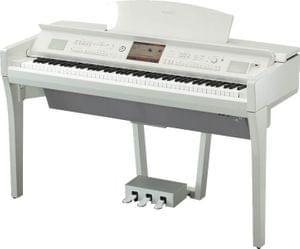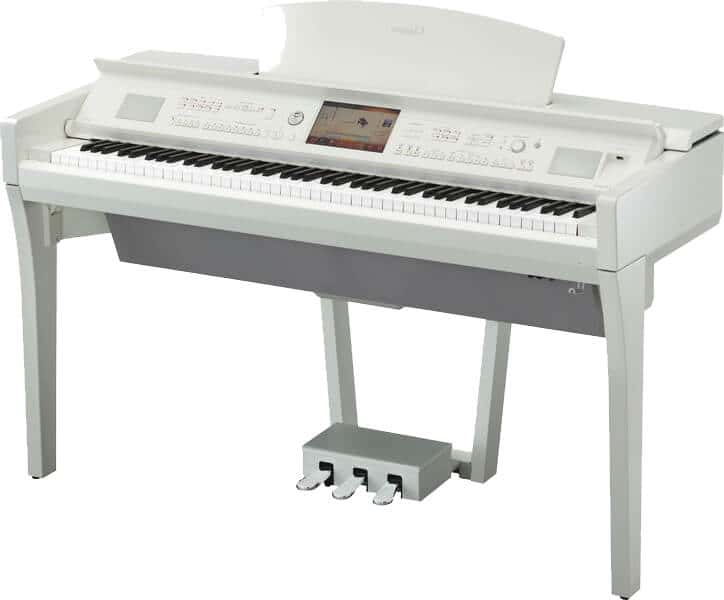 Yamaha Clavinova CVP709PWH Console Digital Piano
All Orders Will Be Dispatched in Next 24 Hours.
line_style Category : Digital piano
star Rating: 5
nature (SKU : YAMAHA_1558162359882)
local_shipping Free Shipping
Description
Yamaha Clavinova CVP709PWH Console Digital Piano
Yamaha Clavinova CVP709PWH Console Digital Piano discovers the joy of music for its professional users and well as beginners. It expanded itself to include a new Secession of with built-in recording studio for capturing and sharing personal lists of music. The piano has 88 key NWX Real Grand Expression (RGE) for extraordinary playing response and extremely high-quality piano performance. It has a meticulous shape with synthetic ebony and ivory key top. Its keyboard utilizes specially chosen dried wood with White High Gloss finish and GH3X keyboard escapement. The sound system is sufficient enough too combined and create an unlimited classic piano experience.
The intuitive sound integration and design provide you a feel and connection with the inner musician. It is an ideal piano with great sound, classic dried wooden frame, and vintage response. With powerful binaural CFX sampling, Yamaha CFX and Bösendorfer Imperial technology it sounds better with off-key sampling and string resonance. It has a modern sound to make an impressive impact in the music world and also allows professional standard tones at a realistic price.
The matte surface is used in the soundboard of Yamaha Clavinova CVP709PWH which results in its superior tone quality. It features touch-sensitive sensors and an escapement mechanism to work with premium quality, creating a response and feel that is way too similar like that of a classical piano. It has an amazing built-in quality and classic design theme with meticulous escapement feel. The ravishing smooth ivory release, key-off samples, and synthetic ebony tops, make this piano a technology exclusive to Yamaha.
Thus, Yamaha Clavinova CVP709PWH is one of the leading, demanded electric pianos in the market.
---
Product Description:
Brand: Yamaha

Model Number: CVP709PWH

Finish: White High Gloss

88-key NWX keyboard

Synthetic Ivory key tops

Linear graded hammers and counterweights

8.5inch LCD colour touch screen

Yamaha CFX & Bosendorfer Imperial

Virtual Resonance Modelling (VRM)

256-note polyphony

GP Response Damper Pedal

1,270 Voices

37 Drum/SFX Kits

480 XG Voices

600 Styles

30 Audio Styles

473 Pro Styles

52 Session Styles

9 Free Play Styles, 36 Pianist Styles)

Piano Room with Session Mode

Music Finder (2,500 records)

USB Audio Recorder

(30W + 30W + 20W) x 2 + 40W amplifier

(16cm + 5cm + 3cm (dome)) x 2

20cm speaker system

Vocal Harmony 2

Intelligent Acoustic Control (IAC)

Acoustic Optimiser

Connect an iPhone, iPad or iPod touch

Optional UD-WL01 USB Wi-Fi adapter

I-UX1 MIDI interface
Similar Products
By The Brand
Explore By Categories