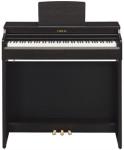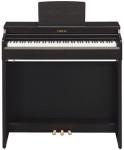 Yamaha Clavinova Piano Clp 525 R
All Orders Will Be Dispatched in Next 24 Hours.
line_style Category : Digital piano
star Rating: 5
nature (SKU : prod_1153)
local_shipping Free Shipping
sync_disabled(discontinued)
Description
Yamaha Clavinova Piano CLP 525R:
The Yamaha Clavinova Piano CLP 525R features great, carefully-sampled recordings of notes on a piano generate them in rich detail and appropriate unique Yamaha technologies to obtain soft tonal changes in response to the touch of the player.
---
Product specifications:
The grand piano Voices were achieved by recording the sounds of a Yamaha CFIIIS concert grand piano.
Smooth tonal conversions perfectly balanced to key pressure.
CLP-525 suggests the crisp tone heard when playing staccato as well as the lingering sound performed by delivering the keys slowly.
GH3 keyboard action generates the touch of an acoustic piano from the thick feel in the lower register to the immodest touch in the higher octaves.
It emphasises highly-absorbent material that inhibits fingers from slipping even after hours of showing while maintaining the perfect texture and feel.
Yamaha has implemented Keyboard Stabilizers to all 88 keys, offering players a natural finish and improving the resistance and durability of the keyboard.
Providing nuanced variations in the sense and broadening your significant range.
The Clavinova is calibrated accurately, with speaker positioning and body elements restrained to assure that the entire instrument resonates optimally.
The body of the CLP-525 includes Acoustic Optimizers that improve the flow of sound and command tone.
The recording function featured in the CLP-525 supports you to record your performances with a particular touch.
The CLP-525 is implemented with Intelligent Acoustic Control (IAC), which settles the sound automatically.
Product Specification:
Brand: Yamaha
Model Number: CLP-525
Number of Keys: 88
Type: GH3 keyboard with synthetic ivory keytops
Touch Sensitivity: Hard, Medium, Soft, Fixed
Number of Pedals: 3
Functions: Damper with half pedal effect, Sostenuto, Soft
Language: English
Piano sound: Yamaha CFIIIS
Number of Preset Songs: 50 (Piano), 10 (Voice Demo).
Other Control: Tuning, Scale Type, etc.
Amplifiers: 20W x 2
Speakers: (12cm x 6cm) x 2 [(4-3/4" x 2-3/8") x 2]
Power Consumption: 13W (when using the PA-300C)
Width: 1350mm (53-1/8") (Polished finish: 1353mm (53-1/4"))
Height: 845mm (33-1/4") (Polished finish: 848mm (33-3/8"))
Depth: 414mm (16-5/16") (Polished finish: 415mm (16-5/16"))
Weight: (Polished finish: 45.0kg (99lbs., 3oz)) 43.0kg (94lbs., 13oz)
Similar Products
By The Brand
Explore By Categories