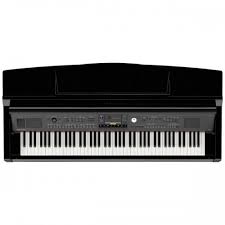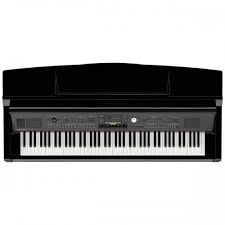 Yamaha Clp585B Clavinova Piano
All Orders Will Be Dispatched in Next 24 Hours.
line_style Category : Digital piano
star Rating: 5
nature (SKU : prod_1406)
local_shipping Free Shipping
sync_disabled(discontinued)
Description
Yamaha CLP585B Clavinova Piano:
Real Grand Expression: sound, touch and pedals, all absolutely integrated to deliver you the excitement of performing a grand piano.
VRM physical modelling: forming the unique reverberation created by the complete body of a performance grand piano.
Smooth tonal shifts, excellently paired with the player's touch.
From staccato to legato, superbly powerful sound that reacts to the player's touch.
Powerful polyphony assures that more difficult passages of music can be executed without notes cutting off.
This action constantly generates subtle differences in the weight and return of each key.
Synthetic Ivory keytops represent the physical surface of the Ivory keyboards once used in acoustic pianos.
Dedicated speakers for the bass, mid and treble registers present progressive, exciting sound.
The body of the Clavinova includes Acoustic Optimizers that control the stream of sound and command tone.
An easy-to-read LCD and automatic design allow simple operation of your Clavinova, giving you extra time to focus on playing.
The recording function featured in Clavinova digital pianos supports you to record your shows with a single touch.
Record performances to USB flash memory as audio files (WAV format) you can protect and playback on a machine or portable audio device.
The Clavinova CLP Series flaunts an exciting library of instrument Voices including electric pianos, strings and organs.
The ability to improve performance volume is extremely beneficial at home where players may not regularly be able to play at high volume levels.
The Stereophonic Optimizer improves the spacing of the sound and the separation from the piano when monitoring via the headphones.
A unique reverb system supports you to feel the sensation of playing in a huge concert hall, cathedral or other venues, continuing depth and atmosphere to the sound.
The GP Response Damper Pedal suggests a grand piano-style stability curve, rising out light to the touch and becoming heavier as the pedal is pressed further.
The sound of a Clavinova is calibrated in accurate detail, with speaker positioning and body elements controlled to assure that the entire instrument resonates optimally.
Natural Wood X (NWX) keyboards are designed using Yamaha's unequalled expertise of wood obtained through more than a century of crafting fine pianos.
Counterweights are inserted in the keys of a grand piano to support the weight of the hammers and allow more accurate control when playing carefully at low volumes.
The moment a pianist's fingers are elevated from the keys of a grand piano, subtle changes happen in the instrument's tone as the damper is reduced onto the strings to mute the sound.
Product Information:
Brand: Yamaha
Model Number:CLP585B
Width: 1461mm (57-1/2") (Polished finish: 1467mm (57-3/4"))
Height: 1013mm (39-7/8") (Polished finish: 1015mm (39-15/16"))
Depth: 477mm (18-3/4") (Polished finish: 478mm (18-13/16"))
Weight: (Polished finish: 90.5kg (199lbs., 8oz)) 88.0kg (194lbs., 0oz)
Number of Keys: 88
Type: NWX keyboard with synthetic ivory keytops, escapement
Touch Sensitivity: Soft 1, Soft 2, Fixed, Hard 2, Hard 1, Medium.
Number of Pedals: 3
Pedal Functions: Sostenuto, Soft, Damper with half pedal effect.
Display Type: Full Dot LCD
Language:English
Key cover Style: Folding
Piano Sound: Yamaha CFX, Bösendorfer Imperial
Number of Polyphony: 256
Number of Voices: 14 Drum / SFX kits, GM2, GS, 48 Voices, 480 XG Voices.
Number of Songs: 250
Internal Memory: approx. 1.5MB
External Drives: USB Flash Memory
Amplifiers: (30W + 30W + 30W) x 2
Power Consumption: 60W
Similar Products
By The Brand
Explore By Categories