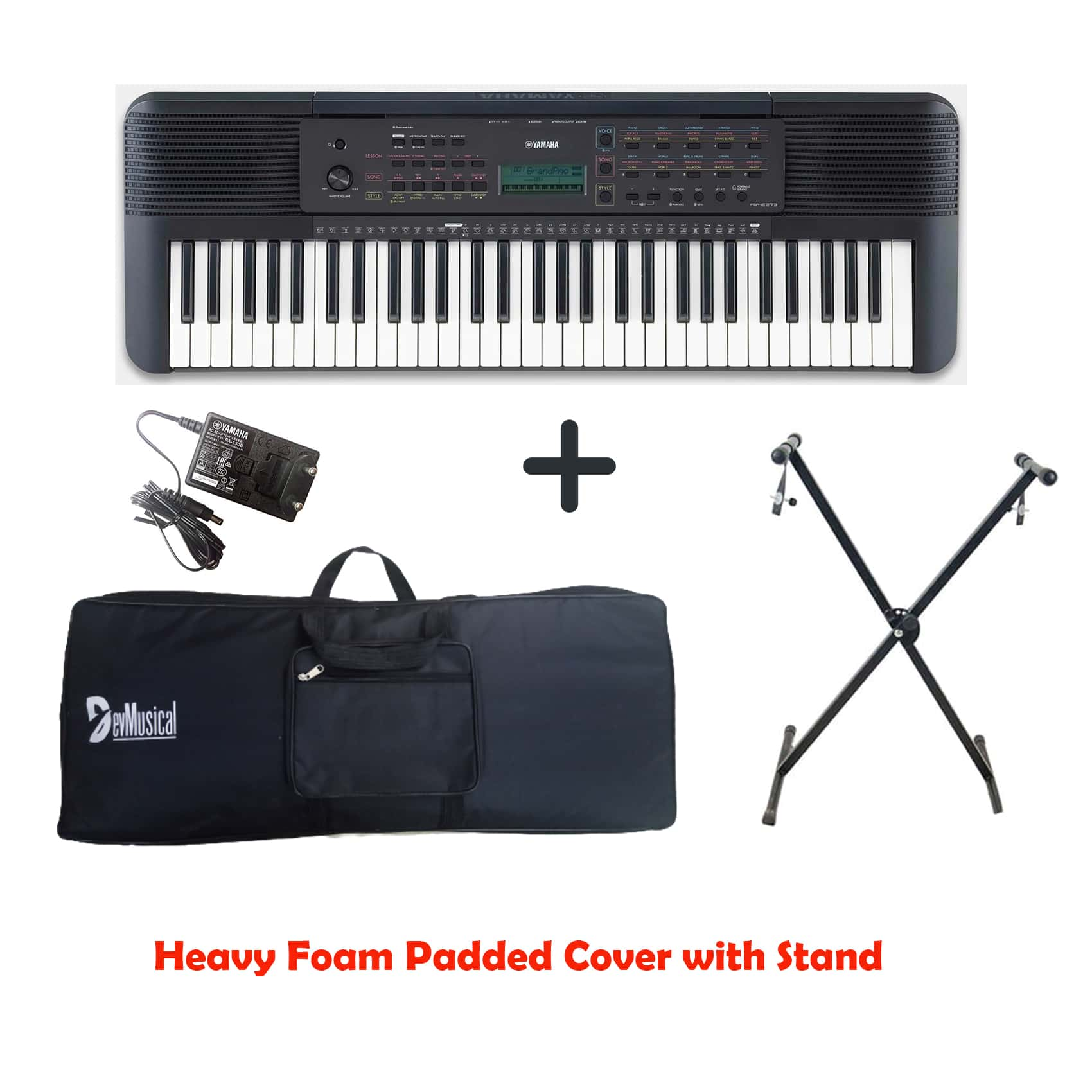 Yamaha PSR E273 Arranger Keyboard Combo Package with Bag, Stand, and Adaptor
All Orders Will Be Dispatched in Next 24 Hours.
money_offMRP: ₹ 11,390
new_releasesDiscount Available (10 %)
loyaltyYour Price : ₹ 10,251
line_style Category : Arranger Keyboards
star Rating: 5
nature (SKU : YAMAHA_1603187110792)
local_shipping Free Shipping
Description
Yamaha PSR-E273 61-key Black Portable Arranger Keyboard is introducing with instrument voices, effects with gills, and much more. With 61 full-size keys, 32-note polyphony, 401 impressive instrument voices, and 143 accompaniment styles. Yamaha Education Suite (Y.E.S.), that inspires you to learn how to play the piano with fun, interactive activities. Yamaha PSR-E273 also comes with Portable Grand Piano keys that bring you back to the piano voice for performing or practicing. Yamaha also added a phrase recorder for you to record and playback previous ideas and performances. The keyboard also has onboard effects, such as chorus and reverb, which encourage you to fill out the sound. Additionally, gratitude to Duo Mode, you can also practice with a teacher or friend. When you hit the Duo Mode button, it allows your keyboard to split into two separate keyboards with the same octave range.
---
Keyboard Bag:
With the combo, you get a keyboard bag that comes with foam inside to assure protection for the PSR-E273 Keyboard with a set of soft Straps. Built with high-quality black fabric which is waterproof and washable. It is lightweight, smooth, superbly designed, and possesses high-quality material. It comes with the best quality zipper gives a smooth opening and closing of the case. The big pocket allows you to keep your important accessories like adaptors, batteries, chord books, and many more.
---
Keyboard Stand:
This Keyboard stand comes with a great combination of excellence and stability. Perfectly designed for comfortable height adjustment and setup, and preserve your time and effort and allows you to focus on your compositions. In addition to Adjustable Rubber, Foot gives stability on rough and irregular floors.
---
Product Features:
61 full-sized synth-action keys.

32-note polyphony encourages more complex and artistic musical expression.

Portable Grand button gives instant access to the wonderful Yamaha Portable Grand Piano voice.

Built-in effects inspire creativity.

Yamaha Education Suite allows you to practice preset songs or your own tunes through the aux in.

143 accompaniment styles enable you to play along with a backing band.

---
Keyboard Bag:
Made from high-quality materials for years of service.

Thick padding and strips help to save from damage due to impacts.

Protects your keyboard from dust, the elements, and minor dings.

Zip pocket for small accessories.

Adjustable secure straps to hold the keyboard in place during transport.

---
Keyboard Stand:
Comfortable Adjustable Rubber Foot provides stability on rough floors.

Cushioning is available to protect your instrument.

Steel tubing for providing support and strength.

---
Product Details:
Brand: Yamaha

Model Number: PSR-E273

Keyboard: 61 Full-Size Keys, Synth Action

Number of Sound Presets: 384 x Sounds, 17 x Drum Kits

Number of Song Presets: 112 x Factory

Effects: Chorus, EQ, Reverb

Maximum Polyphony: 32 Notes

Performance Functions: Duet Mode, Tuning Adjustment

Number of Style Presets: 143

Types: Single-Finger, Multi-Finger, Auto Chord, Auto Harmonize

Practice Features: Lessons, Lesson Songs, Metronome

MIDI Note Memory and Resolution: 300 Notes Total

Number of Recorder Tracks: 1 x MIDI

I/O: 1 x 1/4 inch Headphone Output, 1 x 1/8 inch / 3.5 mm Aux Input

Pedal Support: 1 x 1/4 inch Sustain

Amplifiers: 2 x 2.5 W

Round Speakers: 2 x 4.7 inch / 11.94 cm

AC/DC Power Adapter: PA-130 (Not Included)

Battery Type; 6 x AA

Display: LCD

Included Accessories: Music Rest

Weight: 8.8 lb / 4 kg (without Batteries)

Weight: 4 Kg

Dimensions: 940 x 104 x 317 mm

3 Years Limited Warranty.

---

Guitar Bag:

Type: Keyboard Bag

Color: Black

Material: Fiber

Padded: Yes

Straps: Yes

Number of Pockets: 2

Dimensions: 97 x 42 x 13 cm

Weight: 1400 g
Similar Products
By The Brand
Explore By Categories