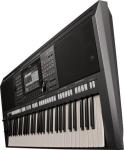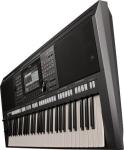 Yamaha PSR-S770 Arranger Workstation
All Orders Will Be Dispatched in Next 24 Hours.
line_style Category : Workstation
star Rating: 5
nature (SKU : prod_2289)
local_shipping Free Shipping
sync_disabled(discontinued)
Description
Yamaha PSR-S770 Arranger Workstation
To build a legacy of live performance, Yamaha has designed series of musical instruments and Yamaha PSR-S770 Arranger Workstation is one among them. Equipped with lots of powerful features, this keyboard is suitable for one and all.
Top features of Yamaha PSR-S770 Arranger Workstation:
360 styles

830 voices

2 live controllers

USB audio playback

Mic Input

New arpeggio function

DJ styles

Super articulation voices

480 XG voices

Vocal cancel functions

Pitch shift
Real sound
By using Yamaha PSR-S770 Arranger Workstation you will hear the more realistic sound. The organ flutes, super articulation voices and various other sounds help the player to produce amazing music. The superb sonic quality of this arranger keyboard is something which will be very useful for performers and professionals. This instrument can take your performance to another level because of its advance features like meticulously sampled voices and comprehensive suite of effects. Even the most demanding audience will be happy with your performance due to high level of music authenticity.
Color LCD Display
What could be better for a player than to have access to the status of the instrument; absolutely nothing. The large LCD display is one of the most striking features of Yamaha PSR-S770 Arranger Workstation. For simple intuitive control over the functions, you have the access to this amazing display. While performing or practicing, you can know the tempo, tone or tune with one glance at the display. Now you have more power to monitor the status of functions while performing.
Powerful features
The keyboard is packed with brilliant features that can help you in taking your performance to new heights. Two assignable live controllers, two assignable foot pedal inputs and modulation wheel will ensure that the player has complete control over the styles and voice. For the liver performance concept, DJ style is the new added feature in Yamaha PSR-S770 Arranger Workstation. This has collection of chord progressions which eliminates the requirement of continuous chord changes. Now you can easily play melody lines, live controllers and trigger the additional external audio by using the multi pads which will surely add unique flair to the performance.
More Sounds
The voice & style expansion feature enables the player to customize and enhance the audios by using some additional content from all over the world. Yamaha PSR-S770 Arranger Workstation allows the player to access the authentic new sounds, and rhythms while backing the musical style of your preference.
Warranty - 3 Years warranty on this keyboard
Adopter - Adopter free!
Similar Products
By The Brand
Explore By Categories