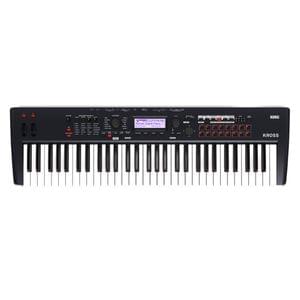 Korg Kross 2 with 88 Keys
All Orders Will Be Dispatched in Next 24 Hours.
money_offMRP: ₹ 89,800
new_releasesDiscount Available (8 %)
loyaltyYour Price : ₹ 82,616
line_style Category : Workstation
star Rating: 5
nature (SKU : prod_2423)
local_shipping Free Shipping
Description
Awesome features of Korg Kross -2 88 Keys
Expandable memory

EDS i-sound engine

Real-time control section

Ultra lightweight

Long operating life

Superb sound sampling

Audio recorder/playing

Input jacks

USB audio interface
Song production features
Various features are offered in Korg Kross -2 88 Keys which can improve the song production. Drum track, sequencer & arpeggiator are available for making the song production livelier.
Favorites function
Such an amazing function allows the player to register those programs and combinations which are frequently used. It's suitable for live players who require specialized sounds for stage performance.
Unique Sampling functions
The instrument is equipped with a unique sampling function which offers 16 playable pads. 4 pads can be triggered simultaneously and the samples can also be edited. By using various functions like start, stop and loop point settings, player can resemple waveforms. Without the requirement of any additional equipment, the player can easily do extensive sampling.
Warranty – 1 Year Limited Manufacturing Warranty.
Similar Products
By The Brand
Explore By Categories