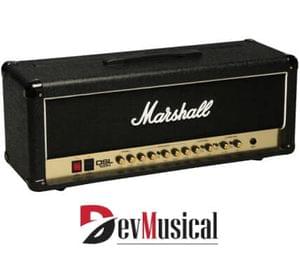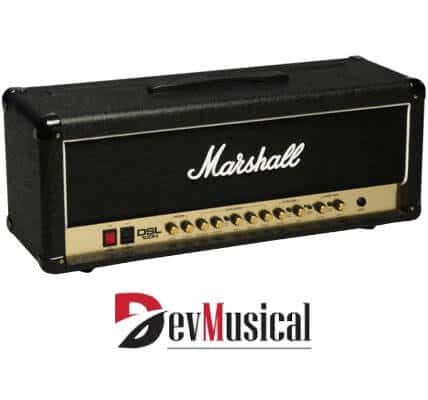 Marshall DSL100H 100W Tube Guitar Amplifier Head
All Orders Will Be Dispatched in Next 24 Hours.
money_offMRP: ₹ 82,965
new_releasesDiscount Available (6 %)
loyaltyYour Price : ₹ 77,987
line_style Category : TUBE AMPLIFIERS
star Rating: 5
nature (SKU : Marshall_1549704841841)
local_shipping Free Shipping
Description
DSL-100H 100 Watt Dual Super Lead Head:
Whether it's the rehearsal room or the live stage, Marshall has created unique and useful amps for every occasion and place. DSL-100H all valve head is not just versatile but affordable as well. It has got the ultra gain and classic gain channels, which can offer a variety including brilliant cleans, and high gain shred.
It has the valve complement set which consists of 4 power amps and 4 preamps. It has also got some significant upgrades from the rest of the amps in the DSL series. The studio quality digital reverb has been provided instead of the spring reverb. The deep switch has been replaced by resonance control as it allows you a better control of lower end chunk.
You can also use the Pentode & Triode switch that drops power output from 100 to 50 watts. This changes the amp's sonic character. DSL-100H has also been equipped with a rear panel series FX loop. You can also enjoy the flexibility of shared five way EQ section that is increased even more by the Tone shift button that scoops mid frequencies. This makes DSL-100H ideal for various modern metal styles.
DSL-100H offers real flexibility along with awesome tone which makes it a complete value for money item.
---
Take a look at its specifications:
Dimensions 740 x 274 x 242 mm
Weight 24.2 kg
FX loop
Valve technology
2 channels
Various controls: presence, reverb, gain, volume, bass, resonance, middle, clean, crunch, treble, OD1 and OD2, pentode and triode
Power and Speaker cables
Pre amp valves
Power amps
2 foot switchable channels (ultra gain/ classic gain)
2 modes/ channel
Shared 5 way EQ ( resosnace, bass, middle, presence, and treble)
Mid shift buttons for tonal flexibility
The playing capacity of DSL 100H is further enhanced by mid-shift button that is provided for perfect modern metal playing. The Triode mode creates a smooth, less aggressive sound by dropping the output to 50 watts.
Order this super amazing Marshall amp now, and enjoy huge discount at Devmusical.
Similar Products
By The Brand
Explore By Categories