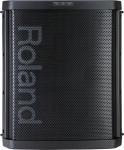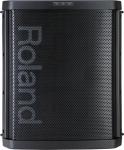 Roland Portable Amplifier Ba 55
All Orders Will Be Dispatched in Next 24 Hours.
money_offMRP: ₹ 100,495
new_releasesDiscount Available (6 %)
loyaltyYour Price : ₹ 94,465
line_style Category : TUBE AMPLIFIERS
star Rating: 5
nature (SKU : prod_1493)
Description
Roland Portable Amplifier BA55:
The Roland Portable Amplifier BA-55 presents self-contained, high-quality and battery-powered sound support for any situation. It's solidly built yet lightweight and enhances bundled with a comparable wireless microphone for public speaking, singing and several extra events. The BA-55 includes an internal accelerometer sensor that automatically switches operation between stereo output (when positioned horizontally) and mono output (when positioned vertically).
---
Product Specifications:
Echo/Reverb effect.
Built-in Anti-Feedback function.
Line Output for recording or developing the system.
Auto Power Off function.
Fit with Roland ST-A95 speaker stand.
Compact design with high-quality sound for public up to 80 people.
SPL (sound pressure level) measured at a powerful 108 dB.
Runs on 8 AA batteries or AC power (AC adaptor included).
Two 6.5" (16 cm) high-performance speakers.
Three-channel built-in mixer with two-band EQ.
An integrated storage section for storing wireless microphones and accessories.
Onboard accelerometer sensor switches operation to the stereo method when placed horizontally.
One 2.4 GHz wireless microphone added (DR-WM55); a second DR-WM55 can be obtained separately for simultaneous use.
Product Information:
Brand: Roland
Model Number: BA-55
Speakers: 16 cm (6.5 inches) x 2
Current Draw: 430 mA
Width: 355 mm, 14 inches
Depth: 265 mm, 10-7/16 inches
Height: 481 mm, 18-15/16 inches
Weight: 10.2 kg, 22 lbs. 8 oz.
Nominal Input Level MIC (XLR type): -50 dBu
Nominal Input Level AUDIO/INST (RCA phono type): -10 dBu
Nominal Input Level Audio/Inst (Stereo miniature phone type, 1/4-inch phone type): -20 dBu
Nominal Output Level Line Out: -10 dBu
Power Supply DC 12 V: Alkaline battery (AA, LR6) x 8, Rechargeable Ni-MH battery (AA, HR6) x 8, AC Adaptor
Similar Products
By The Brand
Explore By Categories