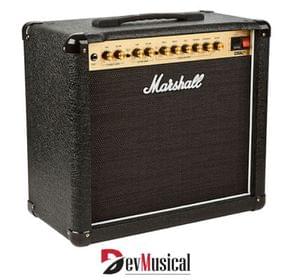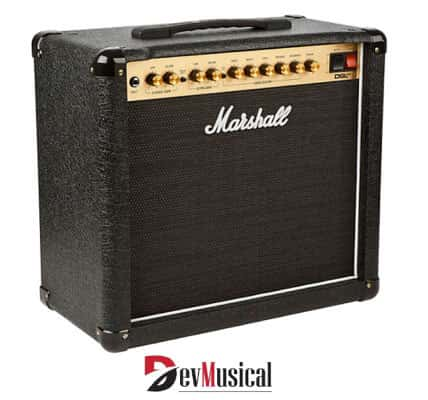 Marshall DSL20CR 20W 1 12 Tube Combo Amplifier
All Orders Will Be Dispatched in Next 24 Hours.
money_offMRP: ₹ 60,619
new_releasesDiscount Available (11 %)
loyaltyYour Price : ₹ 53,951
line_style Category : TUBE AMPLIFIERS
star Rating: 5
nature (SKU : Marshall_1549637702250)
local_shipping Free Shipping
Description
20 WATT TUBE COMBO AMP:
DSL-20CR
DSL-20CR is the compo tube amp from Marshall that is designed for those who want versatility and extraordinary tone. As soon as you plug in the DSL series amp, you can feel the rich functionality of the sound that you create.
Whatever your playing style is, DSL-20CR is going to compliment it. You can unleash and unlock your creative side now and enjoy your music more than ever before.
---
Awesome features of DSL-20CR:
20 watts power
Serial FX loop
Softube emulated output
Sound control for bass, treble and mid
3 preamp tubes (ECC83)
2 power amp tubes (EL34)
Built-in reverb
2 channels
Single input
Celestion speaker ( 1 x 12'')
2 footswitchable channels having ultra gain and classic gain
Reissue series with authentic DSL sound
Tone shift key (for center configuration)
Independent gain and volume controls
Bass switch
Pick your Environment
DSL-20CR has the amazing feature of adjust the power output. This means that the power gets reduced to 10 watts from 20 watts. The sound quality is not affected while adjusting the power output. Such advance features allow you to choose whether you want to practice in your room or in a huge hall.
Select the Tone
DSL-20CR has got the 2 foot switchable gain channels along with FX loop, reverb and tone shift controls. You can choose what kind of tone you would like to have and adapt it to suit your own style.
Not just this, there are 3 speaker outlets that allow you to combine two speakers. You can also use the standby function for silent recording without disturbing others. These kinds of features are great for those players who like to practice at night when others are asleep. You can order DSL-20CR online at Devmusical and get amazing discounts on all musical instruments and pro audio.
Similar Products
By The Brand
Explore By Categories