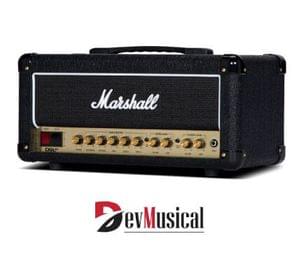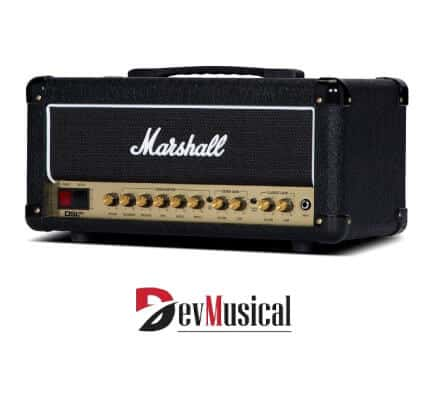 Marshall DSL20HR 20W Tube Guitar Amplifier Head
All Orders Will Be Dispatched in Next 24 Hours.
money_offMRP: ₹ 50,881
new_releasesDiscount Available (6 %)
loyaltyYour Price : ₹ 47,828
line_style Category : TUBE AMPLIFIERS
star Rating: 5
nature (SKU : Marshall_1549638659412)
local_shipping Free Shipping
Description
20 WATT TUBE HEAD DSL-20HR:
Marshall Instruments are royal and classic. Most musicians will agree to this as Marshall has won the reputation of providing high quality amps. DSL-20HR is Marshall's amp which comes from the amazing DSL series.
While playing Marshall's amps, you are bound to feel the revered tonal heritage of classic music. This all-tube amp is highly powerful and it is loved by all enthusiastic players for its amazing functions.
---
Following are the key features and specifications of DSL-20HR worth knowing:
Rear-panel series
Effects loop
2 channels: ultra and classic gain
Capable of creating any classic Marshall sound
Studio grade digital reverb
Included 2 way foot switch
Easy channel switching
Refined EQ section providing great tonal flexibility
Line output equipped with Softube's accurate emulation
Low power mode for silent practice
High power mode for loud practice
Adjustable power output
It can be used for playing all kinds of musical genres and even more. You will leave the audience surprised with your playing capabilities while using this superb Marshall Tube amp. It would be right to say that this is a musical powerhouse.
Many musicians consider this as the go-to rock amp and this suit it perfectly because of it is portable and easy to use. The functions are so easy that even novices can use DSL-20HR. But at the same time, its features are so powerful that professional love to use this amp for live play in front of the audience.
The DSL series from Marshall has been equipped with the latest features and cutting edge technology. The features which were lacking in previous series have been added into the DSL series, thus making it more powerful and preferred.
The newly improved DSL-20HR from DSL series is a great choice for musicians. You can order it on Devmusical and get it delivered for the lowest price.
Similar Products
By The Brand
Explore By Categories