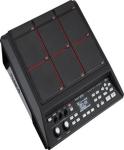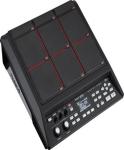 Roland Spd Sx Sampling Pad
All Orders Will Be Dispatched in Next 24 Hours.
money_offMRP: ₹ 75,492
new_releasesDiscount Available (24 %)
loyaltyYour Price : ₹ 57,374
line_style Category : product
star Rating: 5
nature (SKU : prod_2125)
local_shipping Free Shipping
Description
Roland Spd Sx Sampling Pad:
Roland is the popular brand among musicians as it offers high quality musical equipment with top notch quality. Its products are designed for those who want to create amazing music and thrill the listeners. The Roland Spd Sx Sampling Pad is one such product that is created by Roland. This instrument is equipped with nine sensitive rubber pads that have two independent real time control knobs. There are 4 dedicated effect buttons on the Octapad which allow the player to change and add effects in real time.
---
Amazing Playing Field
The Large backlit LCD is also there and it displays easy to read data in all places- whether dark or filled with light. Each pad has been equipped with LED which illuminates and clearly shows the pad's status. One striking feature of Roland Spd Sx Sampling Pad is that the LEDs change the illumination strength depending upon the audio level activity. During on stage performance, you can easily see the pad zones because of the high contrast red divider lines.
Improved functions
In latest scenario, lots of percussionists and drummers have to incorporate their audio samples in performance. Roland Spd Sx Sampling Pad will fulfill their requirement as it has got all the essential features which are created for improved playability and function. It has got lots of amazing features like dedicated volume controls, individual sub out, individual click output routing and Pad check function.
Multi- Pad sampling
There are lots of advanced features in Roland Spd Sx Sampling Pad than one could imagine. You can call this Octapad a little powerhouse as contains powerful lineup of features like the Multi-Pad Sampling. While playing, you can simply strike each pad at appropriate points & sample will get truncated and assigned to that pad automatically. This multi-sampling feature allows you to create sampled phrases & pad maps in a fast and easy manner.
With so many features Roland Spd Sx Sampling Pad is certainly an excellent value for money. Order it now on Devmusical for most affordable prices and we will serve it to you, at your doorstep.
---
Specifications Of Sampling Pad:
Unique sampling-pad concept — the only instrument of its kind in the world.
2 GB internal memory, enabling approximately 360 minutes of sampling (mono) without requiring external memory.
Nine velocity-sensitive rubber pads, two external dual-trigger inputs.
Easy capturing and assignment of audio data through Multi-Pad Sampling.
Three units of multi-effects onboard, with two real-time control knobs and four dedicated effect buttons.
Individual Pad Dynamics indicators show pad status and audio-level activity during performance.
Expanded USB functionality (USB Mass Storage, USB MIDI/AUDIO, USB Memory).
Wave Manager software included for easily importing, assigning, and organizing samples.
Large backlit LCD.
Similar Products
By The Brand
Explore By Categories