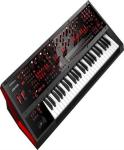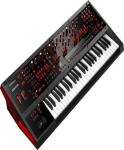 Roland Synthesizer Jd Xa
All Orders Will Be Dispatched in Next 24 Hours.
line_style Category : SYNTHESIZER
star Rating: 5
nature (SKU : prod_1782)
local_shipping Free Shipping
sync_disabled(discontinued)
Description
Roland Synthesizer JD-XA:
The Roland Synthesizer JD-XA is a unique crossover synth that delivers commonly analogue warmth and digital versatility in one super-creative, no- compromise instrument. The JD-XA's engines can be handled separately or interactively, presenting an amazingly adjustable platform for sound design, studio work and live performance. Use the analogue and digital parts side by side, stack them up for complete sonic devastation or shape digital waveforms via the analogue filters to produce sounds never heard before.
---
Product Specification:
Excellent synthesizer with independent analogue and digital sound engines.
LFO rate covers a broad range from ultra-slow to ultra-fast.
Amazingly fast attack envelope time.
Complete effects with MFX for all parts plus five system effects.
Adjustable routing benefits for extremely creative sound design.
Intuitive 16-track pattern sequencer for fast creation of songs and loops.
Mic input supports you to modulate synth sounds with your voice and investigate classic Vocoder functionality.
OSC section comprises Cross Mod, Ring Mod, and OSC Sync, all of which can be managed simultaneously.
Digital parts can be routed through the analogue filter segment for mild, organic results.
Lots of backlit knobs, sliders and controllers for hands-on sound shaping.
Analog filter region features 4-Pole, transistor-ladder and multi-mode (LPF/HPF/BPF) filters with supremely stable, natural response to knob movements.
Onboard USB, MIDI and CV/GATE interfaces plus adjustable MIDI control functionality make the JD-XA the perfect centrepiece for live performance and music production.
Separate digital section formed around SuperNATURAL synth engine (four parts, 64 voices) that's fit with INTEGRA-7 sound libraries from Roland's online Axial sound portal.
Product Information:
Brand: Roland
Model Number: JD-XA
Keyboard: 49 keys.
Maximum Polyphony: Digital Part: 64 voices, Analog Part: 4 voices.
User Program Memory: USB Flash memory: 256, Internal: 256.
Analog-OSC Section: Oscillator waveforms, Knobs/Sliders, Pitch Envelopes, Modulation.
Structure: Analog/Digital Crossover Synthesizer.
Digital-OSC Section: Oscillator waveforms, Knobs/Sliders, Pitch Envelopes, Modulation.
Digital-FILTER Section: Filter Type, Knobs, Envelope.
LFO Section: LFO Waveform, Knobs/Sliders, Tempo Sync.
Mic: Vocoder, MIC Modulation.
Effects: MFX, Part EQ, TFX, DELAY, REVERB, Master EQ, Mic Input Reverb.
Arpeggio: Preset pattern: 64.
Controllers: Pitch and modulation wheels, Pitch bend and modulation lever.
Display: 16 characters 2 line LCD.
External Storage: USB Flash memory.
Power Supply: AC Adaptor.
Current draw: 3,000 mA
Width: 899 mm, 35-7/16 inches.
Depth: 388 mm, 15-5/16 inches.
Height: 111 mm, 4-3/8 inches.
Weight: 6.5 kg, 14 lbs. 6 oz.
Similar Products
By The Brand
Explore By Categories