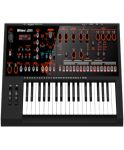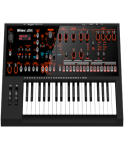 Roland Synthesizer Jd Xi
All Orders Will Be Dispatched in Next 24 Hours.
line_style Category : SYNTHESIZER
star Rating: 5
nature (SKU : prod_1777)
local_shipping Free Shipping
sync_disabled(discontinued)
Description
Roland Synthesizer Jd-Xi:
The Roland Synthesizer Jd-Xi confirms a reliable analogue synth engine, Roland's acclaimed SuperNATURAL synth sounds and many other original tools under one hood. It is Implemented with 37 mini keys, this compact instrument passes fat, warm analogue bass and lead tones with ample limitations for hands-on tweaking, plus polyphonic PCM essentials like pads, strings, brass and more. Create powerful loops in a display with the pattern sequencer and built-in drum kits and examine expressive vocal textures with the gooseneck mic, Vocoder and AutoPitch.
---
Product Specification:
The process sounds with four contemporary effects.
Analogue synth segment presents authentic lead and bass tones.
Two digital synth segments with SuperNATURAL synth tones.
Four-track design sequencer and high-quality rhythm sounds.
USB for audio/MIDI communication with computer music software.
Holds a generous selection of ready-to-play sounds and patterns.
Extra sounds and patterns ready for download at Roland's Axial sound library site.
Analog and Digital Synths in one Keyboard
The JD-Xi produces the best of both worlds: the warm, smooth response of classic analogue and the simplicity and versatility of modern digital. The newly improved monophonic analogue synth segment features saw, triangle and square waveforms with pulse-width modulation and an analogue filter, plus an independent sub oscillator for low-end power. Two digital synth regions suggest a wide range of high-quality SuperNATURAL synth tones, including pads, strings, electric piano, sound effects and many others.
Gooseneck Mic for Vocoder, Autopitch and different Vocal effects
The JD-Xi begins with a strong, high-quality gooseneck mic that performs even more fun to the party. Using the Vocoder, you can sing into the mic and survive the tone and pitch via sounds performed on the keyboard. With AutoPitch, it's pure to achieve the impossible, robotic vocal sounds that are accessible in today's pop and electronic music styles.
Build Loops with the Four-Track Pattern Sequencer
The sequencer recommends four separate tracks-two digital synth parts, analogue synth and drums-allowing you to authenticate rich-sounding loops for any style. Real-time and step recording styles are presented, along with a distinctive TR-REC mode for programming in the style of Roland's classic TR-series beatboxes.
Pro-Drum Kits For high-Impact Beats
The JD-Xi produces quality rhythm tones to satisfy any groove. It Includes many types of electronic and acoustic kits and the drum instrument tasks are conveniently specified above the keys for immediate identification. You can also personalize the kits for your music by adjusting filter, envelope, pitch and pan parameters on specific drum sound.
Shape Sounds With Impressive Effects
The JD-Xi combines four simultaneous results sectors for enhancing any sound. Effect 1 and 2 provide selectable processing options such as Bit Crusher, Slicer, and Ring Mod, while dedicated Delay and Reverb sections make it comfortable to envelop sounds in spacious ambience.
Product Information:
Brand: Roland
Model Number: JD-Xi
Keyboard: 37 mini keys
Maximum Polyphony: Digital Synth/Drum Kit: 128, Analog Synth: 1
Effects: Effect1, Effect2, Delay: 2 types, Reverb: 6 types
Pattern Sequencer: Tracks: 4
Vocal Function: Vocoder, Auto Pitch, Auto Note
Controllers: Pitch Bend/Modulation Wheel
Display: 16 characters 2 lines LCD
Power Supply: AC Adaptor
Current draw: 1,000 mA
Width: 575 mm, 22-11/16 inches
Depth: 245 mm, 9-11/16 inches
Height: 85 mm, 3-6/16 inches
Weight: 2.2 kg, 4 lbs. 14 oz.
Similar Products
By The Brand
Explore By Categories