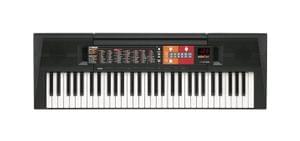 Yamaha PSR F51 Portable Keyboard
All Orders Will Be Dispatched in Next 24 Hours.
money_offMRP: ₹ 7,390
new_releasesDiscount Available (11 %)
loyaltyYour Price : ₹ 6,577
line_style Category : Portable keyboard
star Rating: 5
nature (SKU : prod_2407)
local_shipping Free Shipping
home Cash On Delivery Available
Description
Yamaha PSR-F51 Portable Keyboard Features:
Both beginners & professionals would like to have an instrument which is equipped with a variety of features. Yamaha PSR-F51 meets this requirement and helps people in getting amazingly enhanced musical experience.
You can order this keyboard at Devmusical at extremely affordable rates. Several functions in this keyboard are highly advanced and are something which professionals require.
Voice & style
Yamaha PSR-F51 will offer you lots of features which are perfect for professional style playing. You can find traditional voices and style along with the most favorite ones like guitars, brass and pianos.
Very diverse style list is available which has several categories including pianist, country, ballroom, trad & waltz, and many more.
The voice list feature in the keyboard is also very useful because it has many categories. The best categories include drum kits, percussion, woodwind, organ, accordion, piano, percussion, and brass.
Sleek Design
Yamaha PSR-F51 is designed by experts who have given it a unique, sleek design. The design is highly compact and portable which makes the keyboard suitable for one and all. The cabinet is quite compact and further makes the instrument perfect for playing. Since it has sleek design, it can be kept anywhere and played easily without any issues.
Powerful sound
The Yamaha PSR-F51 keyboard is known for delivering powerful sound. Such extremely high quality sound is produced because of combination of two powerful amplifiers. Because of this feature, players can perform in different situations. Whether you want to practice in a studio or perform in front of audience, the sound from this keyboard will be so powerful that everyone will enjoy.
Great functions
The basic functionality of the instrument is user friendly yet straightforward. This makes it ideal for those who require better responsiveness and usage. You will find multiple functions in Yamaha PSR-F51 including duo mode and lesson guide. The overall controls are also provided in the keyboard which includes tempo range, transpose, metronome and tuning. The features like amplifiers, speakers are also available in this keyboard. The power consumption is quite low which is another great feature which makes this keyboard suitable for those who take long practice sessions.
Storage & Connectivity
The storage is quite high in this keyboard which makes it perfect for professionals. Connectivity is also supported in this instrument as it has stereo MINI jack. You can easily connect the keyboard to external devices and headphones because the input jacks are provided for ease of the user.
Warranty - 3 Years Warranty on this keyboard.
Similar Products
By The Brand
Explore By Categories