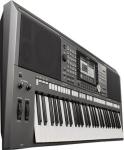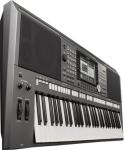 Yamaha PSR-S970 Arranger Workstation
All Orders Will Be Dispatched in Next 24 Hours.
line_style Category : Workstation
star Rating: 5
nature (SKU : prod_2281)
local_shipping Free Shipping
sync_disabled(discontinued)
Description
Yamaha PSR-S970 Arranger Workstation
Yamaha PSR-S970 Arranger Workstation is the flagship model under the S-series. This keyboard meets the requirements of professional players because it has the combined functionality of various other models of the range. Various powerful performance features are equipped in this instrument, including external display capability, versatile effects and programmable vocal harmony function.
Brilliant features of instrument:
2 live controllers
Mic/guitar input
40 audio styles
989 voices
Real reverb & distortion
Intuitive effects interface
Vocal cancel functions
Authentic voice & style
New arpeggio function
Perform like a Pro
All beautiful things start with an idea and the same holds true for music compositions. Yamaha PSR-S970 Arranger Workstation allows the players to turn a simple melody into a finished piece. While using this keyboard, you will find that the magical process has become smoother and intuitive. By using 450 accompaniment styles and 1500 voices you can write, record and easily give an outstanding performance. The audio and DJ styles will help you in creating rich music. This awesome arranger keyboard is simply perfect for those who want an advanced instrument.
Massive library
The keyboard offers an expansive collection of several sounds which are from different genres. You will get 1510 unique voices, super articulation voices, and DX sounds. The powerful onboard effects include real reverb and real distortion are very useful for the musicians.
Accompaniment Styles
You will get 450 onboard accompaniment styles which will easily fulfill your musical requirements. The extra parts will be filled with bass, rhythm and accents. The accompaniment styles work in different ways and it allows you to trigger the key changes, add in the fills and perform as well. The DJ styles are also found which lets you play in a versatile manner. The multi pads and live controls which are available in Yamaha PSR-S970 Arranger Workstation will further help the player in delivering amazing performance.
Songwriting & Performing
Yamaha PSR-S970 Arranger Workstation offers great musical effects by using modulation and pitch wheels, spanning to footswitches. The multi pads & assignable Live controls will allow you to trigger the samples. This workstation was designed for building real time performance in the most amazing manner. You will also get 7 inch color LCD which will show every function with details. The 16 track sequencer allows the player to have better audio recording capabilities, karaoke style music. This arranger workstation is perfect for writing songs and performing live. You will also have guitar effects and special vocal sounds that can make your music experience more enchanting.
Warranty - 3 years warranty on this keyboard.
Adopter - Adopter free!
The Yamaha PSR-S970 Arranger Workstation has been discontinued the new model has been launched click on the link to see new model Yamaha PSR S975 Arranger Workstation
Similar Products
By The Brand
Explore By Categories