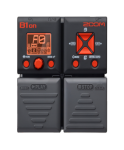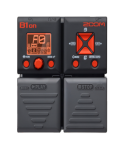 Zoom B1ON Bass Effect Pedal
All Orders Will Be Dispatched in Next 24 Hours.
line_style Category : EFFECT PEDALS
star Rating: 5
nature (SKU : prod_1724)
local_shipping Free Shipping
home Cash On Delivery Available
Description
Zoom B1ON Bass Effect Pedal
The Zoom B1ON Bass Effect Pedal offers 100 bass effects, including a variety of twist, compression, intonation, delay, reverb and amp models.
An onboard chromatic tuner helps all standard bass tunings and a Looper characteristic enables you to record up to 30 seconds of CD-quality audio. Loop length can be fixed either manually or to a preset number of quarter notes and you can loop to any rhythm trim with automatic quantization that assures seamless origin and end times.
---
Programming is easy and straightforward recognition to a streamlined user interface and large backlit LCD screen. The B1on built-in expression pedal allows you to manage the input level, output level or any chosen effect parameter in real time.
Stayin in tune:
The B1on Tuner is immediately available at all times and shows you whether the note you're playing is sharp, flat, dead on. The B1on Tuner is soft. It can be placed to a reference of A=440 or any value between 435 and 445 and can be used in a variety of standard bass tunings.
---
Rhythm:
Rhythm training is an essential part of every bassist's craft. The 68 realistic-sounding beats are at your fingertips. The Rhythm function can also be used in conjunction with the Looper function allowing you to craft multiple orchestrations overlaying the design of your preference.
---
Looper:
The B1on Looper can also be practised in conjunction with the Rhythm function, allowing you to play along with the design of your decision.
---
Power Functions:
The B1on runs on simply 4 AA batteries-either alkaline or rechargeable NiMH. When a jack is injected into its input connector and a freakish "eco" function can be used to automatically power the unit off if unused for 10 hours.
---
Product Information:
Number of effects: 100
Number of simultaneous effects: 5
Sampling frequency: 44.1 kHz
A/D conversion: 24-bit, 128× oversampling
D/A conversion: 24-bit, 128× oversampling
Signal Processing: 32-bit floating point & fixed point
Display: Backlit dot matrix LCD
Input: Standard mono ¼" phone jack
Rated input level: -20 dBm
Input impedance (line): 470 kΩ
Aux in: Mini stereo (⅛") phone jack
Rated Input Level: Mini stereo (⅛") phone jack
Input impedance (line): 1kΩ
Output: Standard stereo (¼") phone jack
S/N (input conversion noise): 119dB
Noise floor (residual noise): 97 dBm
Battery type: AA size (LR6) battery x 4
USB: Firmware update, bus power
Weight: 380g (without batteries)
External Dimensions: 154.8mm(D) x 146.0mm(W) x 43.0mm (H)
AC adapter: DC 9V center-negative, 500 mA (Zoom AD-16)
Similar Products
By The Brand
Explore By Categories