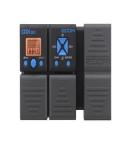 Zoom G1Xon Guitar Effect Pedal
All Orders Will Be Dispatched in Next 24 Hours.
line_style Category : EFFECT PEDALS
star Rating: 5
nature (SKU : prod_2045)
local_shipping Free Shipping
home Cash On Delivery Available
Description
Zoom G1Xon
The Zoom G1Xon enables you to join elegance and refinement to your performance. Add in 100 great-sounding guitar effects and amp patterns- with the capability to use up to 5 of them together- plus 68 built-in rhythm backup patterns and an onboard chromatic tuner and Looper and take your guitar performing to a whole new level.
---
The G1Xon allows 100 guitar effects, including a variety of twist, compression, modulation, delay, reverb, and amp patterns as well as a number of special pedal-controlled conclusions.
Dynamics / Filter:
Eleven various ways to shape and manage your sound with compressors, noise gates, filters, equalizers and wah effects. Follow the standard tone of the MXR Dynacomp, dbx 160, Moog Filter.
---
Tuner:
The G1Xon Tuner is soft too. It can be set to a source of A=440 or any value between 435 and 445 and can be used chromatically or in a variety of conventional guitar tunings- even drop tunings of up to 3 semitones.​​​​​​​
---
Amp:
Twenty-two of the common sensible models ever created, including simulations of classic tube and solid-state amps. Our amp sounds are so lifelike you'll state on a stack of speaker cabinets you're heading to the real thing.
---
The G1Xon expression pedal:
The G1Xon's built-in expression pedal enables you to alter any chosen parameter in real time. You can use it to gain drive or volume to add wah or filtering, to change delay time or modulation speed or a variety of other parameters.
---
Product Information:
Sampling frequency: 44.1 kHz
Number of effects: 100
Number of simultaneous effects: 5
Number of patches: 100 (10 banks of 10)
Sampling frequency: 44.1 kHz
Display: Backlit dot matrix LCD
S/N (input conversion noise): 119dB
Noise floor (residual noise): -97 dBm*
Battery type: AA size (LR6) battery x 4
USB: Firmware update
Weight: 640g (without batteries)
A/D conversion: 24-bit, 128× oversampling
D/A conversion: 24-bit, 128× oversampling
Signal processing: 32−bit, floating point & fixed point
External dimensions: 154.8mm(D) x 237.0mm(W) x 50.0mm (H)]
Similar Products
By The Brand
Explore By Categories