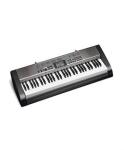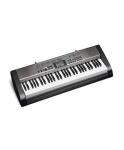 CASIO CTK 1300 ELECTRONIC KEYBOARD
All Orders Will Be Dispatched in Next 24 Hours.
offline_pin Brand :
Casio
line_style Category : Portable keyboard
star Rating: 5
nature (SKU : prod_1059)
local_shipping Free Shipping
sync_disabled(discontinued)
Description
CASIO-CTK-1300
CTK-1300 is preferred choice of several keyboard players because it offers various features. Lesson function, song bank tunes, quality rhythms and tones are found in CTK-1300.
· 12 tone polyphony
· Rhythm control
· 50 musical pieces
· Automatic switch off
· Headphone jack
· Transposition & tuning
· Two power supply systems
The keyboard has an automatic switch off feature. After 6 minutes of inactivity on the keyboard, it automatically switches off. The lesson function allows practice of both hands while playing built-in songs.
Warranty Conditions - 3 Years Manufacturing Warranty
Adaptor – Worth 395/- Rupees adaptor Included With CTK-1300.
The CASIO CTK 1300 ELECTRONIC KEYBOARD has been discontinued the new model has been launched click on the link to see new model Casio CTK 1550 Keyboard
Similar Products
By The Brand
Explore By Categories