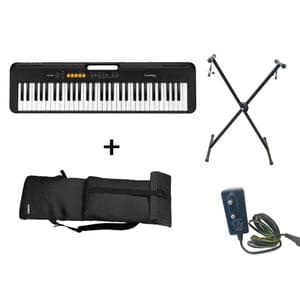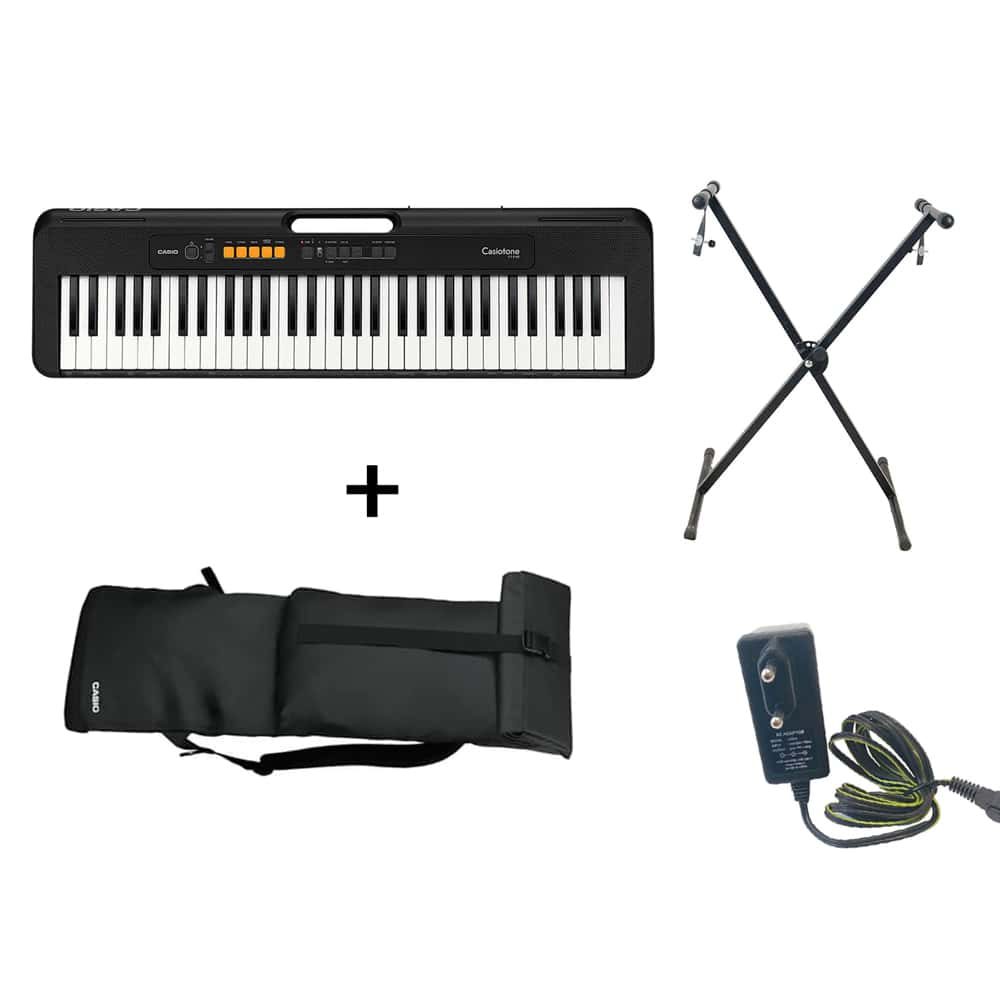 Casio CT S100 Keyboard Combo Package with Carrying Bag Stand and Adaptor
All Orders Will Be Dispatched in Next 24 Hours.
money_offMRP: ₹ 8,895
new_releasesDiscount Available (15 %)
loyaltyYour Price : ₹ 7,561
offline_pin Brand :
Casio
line_style Category : Portable keyboard
star Rating: 5
nature (SKU : Casio_1579182427216)
local_shipping Free Shipping
home Cash On Delivery Available
Description
Casio CT-S100 Keyboard Combo Package with Carrying Bag, Stand, and Adaptor
Casio CT-S100 Keyboard is an innovative lightweight and compact keyboard available with a combo package with carrying bag, stand and adaptor. Perfect for either home or school use, the CT S100 is perfect for learning the basics of performing the keyboard. It has 930 mm x 256 mm x 73 mm is 30% more petite in volume. It gives almost 16 hours of alkaline battery life. Apart from this a perfect grip at the top of the keyboard and a weight of only 3.3 kg. With the included bag it is so much comfortable to carry. It is securely portable as it has rounded corners and edges.
Casio CT-S100 Keyboard features an easy, inherent interface, giving an organized layout with several buttons. Moreover, it houses 13 cm x 6 cm oval speakers with extended magnets deliver surprisingly exceptional sound for such a compact instrument. The additional function optimizes the equalizer in conjunction with the volume presents balanced sound from the bass to the highs, even at low volumes. With external jacks, players can record favorite tones to simply recall tones and rhythms such as those discovered in music class when you practice at home.
Casio CT-S100 Keyboard is comprehensively simple and easy to use a keyboard with great visuals. Also, matching stand adds a star on your stage performance. A convenient feature of CT-S100 is that it has an integrated arm at the top that enables one to carry it anywhere easily. With great functionality and features, it is perfect for learning various tones.
---
Product features:
Comes with carrying bag, adaptor and stand

The sturdy stand gives great stability while performing on the stage

An included carrying bag is padded that protects your instrument from damages

It has simple functions perfect novice, players

Handles are incorporated for easy portability

The headphone output allows for practicing silently

Packed with 61 full-size keys and 61 accompaniment rhythms and 69 preset songs

Run-on ac adaptor included in the list

Battery performs up to 16 hours
Product Details:
Brand: Casio

Model Name: CT-S100

Colour: Black

Keyboard: Number of Keys: 61

Greaseless parts: Yes

Direct Tone Select: 5

Sound Source: LSI15

Polyphony: 32

Number of Tones: 122

MIDI: Receive: Yes

Reverb: 4 types, off

Volume Sync EQ: Yes

Song Bank: Number of songs (preset): 60

Number of Rhythms (preset): 61

Synchro Start: Yes

Rhythm Elements: normal/fill-in

Code Mode: Casio Chord, Fingered1, Findered2, and Fingered on base, Fingered Assist, Full Range

Metronome: Yes

Registration: 1

Phones/Output: Stereo Mini

USB (to Host): Yes (Micro B)

Channel: 2 (Stereo)

Size: 13cm x 6cm x2

Wattage: 2W + 2W

Digital Amp: No

Power Adapter: AD-E95100L included

Available Rechargeable Battery: Yes

Battery Life: 16 hours (with Alkaline)

Simple Operation: Yes

Handgrip to Portability: Yes

Dimensions: 930mm X 256mm X 73mm

Weight: 3.3kg
Similar Products
By The Brand
Explore By Categories