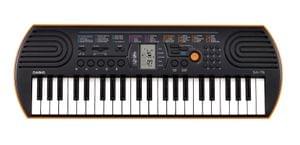 You Get 3 Years Hassle Free Warranty If You Buy From Us
Casio Sa 76 Musical Electronic Keyboard
3 Years Warranty on Keyboard & LAD 6 Adaptor is Free
All Orders Will Be Dispatched in Next 24 Hours.
money_offMRP: ₹ 3,595
new_releasesDiscount Available (10 %)
loyaltyYour Price : ₹ 3,236
offline_pin Brand :
Casio
line_style Category : Portable keyboard
star Rating: 5
nature (SKU : prod_1023)
local_shipping Free Shipping
home Cash On Delivery Available
Description
Casio SA 76 Musical Electronic Keyboard
Whether you want to gift your child an amazing keyboard or wish to buy it for yourself, SA 76 is a perfect choice for you. Features in this digital keyboard are highly beneficial for beginners.
Its features are almost similar to those present in a professional keyboard.
Highlights:
A Striking change over

Easy switching between organ and piano modes

LSI sound source

Quality speakers

Select different music options with LCD display

50 Rhythms

10 Song Bank



Sleek Design
SA 76 is designed in a sleek manner and equipped with tone bank of 100 tones. This kind of design gives ease to the player and also makes the keyboard portable. It can be carried easily due to its sleek design and lightweight.
Various Features
Apart from all these features, various other specialties can be found in this electronic keyboard. 44 well designed, easy to press keys are found. The melody can be easily turned on & off using the lesson function.
The 5 drum pads produce specific sounds when the player taps them. Speakers designed on either side of the keyboard produce high quality, clear sound. The keyboard can be played by using the batteries or even the AC adaptor.
Warranty Conditions - 3 Years Manufacturing Warranty
Adaptor – Worth 395/- Rupees adaptor Included With SA-76.
Similar Products
By The Brand
Explore By Categories