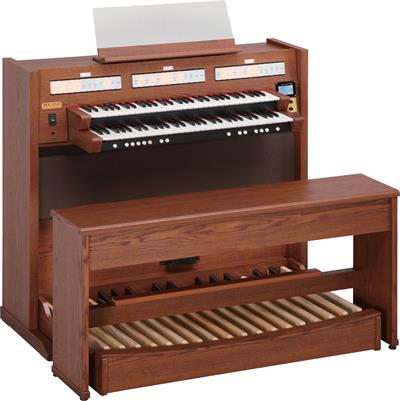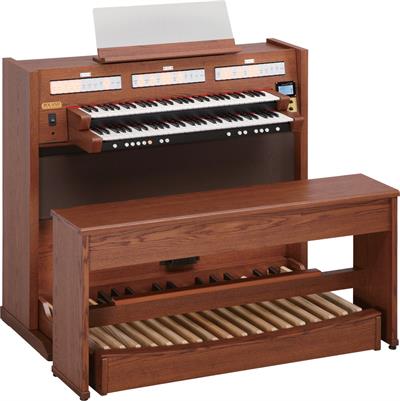 Roland Classic Organ C-330-La
All Orders Will Be Dispatched in Next 24 Hours.
line_style Category : Digital piano
star Rating: 5
nature (SKU : prod_1745)
local_shipping Free Shipping
sync_disabled(discontinued)
Description
Roland Classic Organ C-330LA:
The Roland C-330 Classic Organ is compact yet stress rich. With a recently designed dual-manual tracker-action keyboard and curved pedalboard, it appears amazingly authentic pipe-organ sound, touch and spatial ambience in a space-saving cabinet.
---
Product Specification:
High-quality sound from the Rodgers/Roland building.
Immediate switching between classical tunings, baroque pitch, etc.
Voice Pallets for each stop, from baroque to passionate.
Built-in recorder for showing and storing representations.
RSS ambience system presents the grand repercussion of a cathedral.
Recently designed concave pedalboard and dual-manual tracker-action keyboard.
Compressed design, just 1,270mm (W) x 910mm (D) x 1,319mm (H) including music rest and pedalboard.
Compact satellite speakers generate the spatial depth of pipes emanating from the walls and ceiling.
Perfect Pipes
The C-330 submits superb tone with extremely flexible pipe-voicing capability, Windchest panning, and controls for Warmth, Presence, Chiff and more. Every custom frame you make can be conveniently collected to USB memory.
Perfect Touch
The C-330 is selected with a recently created dual manual tracker-action keyboard (61 keys) and parallel concave pedalboard (30 pedals). The result is an actual pipe-organ feel, with a smooth, quiet action that's both sensitive and satisfying to play.
RSS Ambient Sound
The C-330 is implemented with a 4-channel digital amplifier and a registered RSS ambience engine for a rich, spatial sound. Hands-on commands are provided for immediately controlling the balance of the main speakers, the satellite speakers and the reverb.
Versatile Practice and Performance
The C-330 can be handled in a broad variety of environments, such as wedding parlours, churches and concert halls but it can also deliver the joy of playing in a cathedral directly into your home.
Product Information:
Brand: Roland
Model number: C-330
Keyboard: Manual-I: 61 keys, Manual-II: 61 keys, Pedal: 30 keys.
Tremulant (Tablet): Manual-I, Manual-II 1 each: Total 2
Effect: RSS Reverb
Key Transpose: -6 to +5 semitone steps
Temperament: Equal, Werckmeister III, Kirnberger I/III, Vallotti, Meantone D#/Eb, Pythagorean, Modern Bach.
Pitch: 4 types
Master Tuning: +/-50 cents
Storage Media: USB Flash Memory
Pedal: Expression Pedal: 1, Kick Switch: 2
Speakers: Satellite Speakers 12 cm x 2, Woofer 20 cm x 2, Tweeter 5 cm x 2.
Power Consumption: 120 W
Cabinet Finish: Simulated Light Oak
Total Width of console and pedalboard: 1,270 mm, 50 inches
Total Depth of console and pedalboard: 910 mm, 35-7/8 inches
Total Height of console and pedalboard: 1,319 mm, 51-15/16 inches
Total Weight of console and pedalboard: 109.8 kg, 242 lbs. 2 oz.
Bench Width: 1,350 mm, 53-3/16 inches
Bench Depth: 294 mm, 11-5/8 inches
Bench Height: 640 mm, 25-1/4 inches
Bench Weight: 20.0 kg, 44 lbs. 2 oz.
Similar Products
By The Brand
Explore By Categories