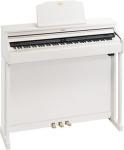 Roland Digital Piano Hp 504
All Orders Will Be Dispatched in Next 24 Hours.
line_style Category : Digital piano
star Rating: 5
nature (SKU : prod_1763)
local_shipping Free Shipping
sync_disabled(discontinued)
Description
Roland Digital Piano HP-504:
Roland Digital Piano HP-504 is the advanced technologies deliver superior piano concert to an attractive and affordable instrument for your home. The SuperNATURAL Piano sound engine has been improved with a Dynamic Harmonic characteristic for fortissimo playing, while the new PHA-4 Premium Keyboard with Escapement and Ivory Feel covers the latest touch-sensing technology to completely examine SuperNATURAL Piano's rich tonal contrasts and natural dynamics.
---
Product Specification:
Built-in recorder lets you catch your achievements as MIDI or audio files.
Possible in Simulated Rosewood, Contemporary Black and White finishes.
Play along with popular songs in your iPhone, iPad or iPod touch using the free Air Performer app.
Large onboard song library includes piano classics, as well as general études such as Czerny 100 and Hanon.
Enjoy excellent sound with SuperNATURAL Piano, which produces the rich, multiple tones of an actual acoustic grand.
New PHA-4 Premium Keyboard with Escapement and Ivory Feel emphasises Roland's latest high-resolution touch-detection technology.
Use current Individual Note Voicing to customize the sound to your taste by changing the pitch, volume and character of each note separately.
Headphones 3D Ambience effect suggests a rich, immersive sound experience while using headphones for individual practice.
Convenient specialities for daily playings, such as sovereign volume for headphones, Volume Limit function and flexible music rest.
Fortissimo playing techniques are fully represented with the new Dynamic Harmonic characteristic, which produces both a different tonal character and powerful sound.
Free Piano Partner app for iPad combines the interactive Flash Card game for building music skills and produces an automatic interface for selecting songs and tones in the HP504.
Product Information:
Brand: Roland
Model number: HP-504
Keyboard: 88 keys.
Touch Sensitivity: Key Touch: 5 types, fixed touch.
Keyboard Mode: Whole, Dual, Split, Twin Piano.
Pedals: Damper, Soft, Sostenuto.
Piano Sound: SuperNATURAL Piano Sound.
MIDI Format: Conforms to GM2, GS, Xglite.
Max. Polyphony: 128 voices.
Tones: Upright Piano: 5 Tones, E.Piano: 10 Tones, Other: 321 Tones, Grand Piano: 14 Tones.
Temperament: 8 types, selectable temperament key.
Master Tuning: 415.3 – 466.2 Hz.
Transpose: Key Transpose: -6 – +5 (in semitones), Playback Transpose: -6 – +5 (in semitones, including audio files).
Tempo: Quarter note: 10 – 500.
Volume: 11 levels.
Parts: 3 parts.
Save Song: Standard MIDI Files.
Note Storage: Approx. 30,000 notes.
Control: Song Select, Play/Stop, Rec, Rewinding, Fast-forwarding, Top of the song, Part Mute, Mute Volume, Tempo, Tempo Mute, All Songs Play, Count-in, Song Balance, AB Repeat.
Resolution: 120 ticks per quarter note.
Playback: File Format: Audio File (WAV 44.1 kHz, 16-bit linear format).
Recording: Keyboard, SMF data, File Format: Audio File (WAV 44.1 kHz, 16-bit linear format).
Transpose: Playback Transpose: -6 – +5 (in semitones).
Playback Speed: 75 – 125%.
External Storage: USB Flash Memory.
Playable Software: Standard MIDI Files, Roland Original Format, Audio File.
Language: English, Japanese.
Music Rest: Tilt Adjustment: 3 levels.
Keyboard Lid: Slide type.
Rated Power Output: 12 W.
Volume Level: 106 dB.
Speakers: 12 cm x 2.
Headphones: Effects: Headphones 3D Ambience.
Width: 1387 mm, 54-10/16 inches.
Depth: 429 mm, 16-15/16 inches.
Weight: 51.5 kg, 113 lbs. 9 oz.
Similar Products
By The Brand
Explore By Categories