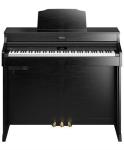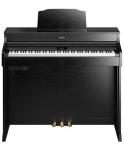 Roland Digital Piano Hp 603
All Orders Will Be Dispatched in Next 24 Hours.
line_style Category : Digital piano
star Rating: 5
nature (SKU : prod_1767)
local_shipping Free Shipping
sync_disabled(discontinued)
Description
Roland Digital Piano HP-603:
The Roland Digital Piano HP-603 is powered by the advanced version of our acclaimed SuperNATURAL Piano Modeling technology, along with a unique keyboard that combines wood and moulded materials for exceptional feel and stability. With its modern style, the classically styled HP603 will definitely make a big impact in your home, studio or venue, particularly with a choice of ends including contemporary rosewood, contemporary black, and white.
---
SuperNATURAL Piano Modeling for a Smart, Living Piano Sound
A SuperNATURAL Piano works separately, using the latest modelling technology to recreate, preferably than replay, the sound. Our unique modelling process traverses the entire sound-creation process of a typical piano, including the combination of notes represented, their resonances and the way in which the piano's many elements combine with each other. The result is a deep, complex sound -complete with overtones -that truly changes in response to the way you represent, something that's difficult to achieve when a piano uses samples.
Grand Piano Sound Through Your Headphones
One of the prominent advantages of a digital piano is the energy to perform silently with headphones. This is the desired opportunity, as good headphones can deliver remarkable accuracy and detail when you're practising. Roland pianos use Headphones 3D Ambience to optimize the audio so it sounds like it's getting from inside the piano itself, not through your headphones.
The Appearance and Feel of a Wooden Keyboard, Without the Disadvantages
A completely wooden keyboard is not the best approach for a digital piano, as wooden keys need proper subsistence to keep them in the best circumstance. The HP603 has a new type of keyboard that combines wood and created material for the best of both worlds; beautiful wooden planes give every key a familiar, rigid mass that holds just fit to play, while the strong inner frame means you can experience your Roland piano every day for years to come without disturbing about reliability.
Plays Like an Acoustic Grand Piano
Each key on the HP603 has a stabilizing pin to secure the vertical travel is soft and specific, avoiding the sideways key action and noise experienced when playing glissandos on some pianos. Since the HP603 has our modern piano engine onboard, we also returned the key sensing system to balance it, so that the sound and keyboard work in perfect harmony for the final piano experience.
Elegant Design, Classic Lines, Timeless Sound
The HP603 is reassuringly traditional when it becomes to form. Combining classic lines with a space-conscious layout, there are three premium surfaces available: contemporary rosewood and easy-to-clean modern black or white.
Product information:
Brand: Roland
Model number: HP-603
Piano Sound: SuperNATURAL Piano Modeling.
Max. Polyphony: Piano: Limitless, Other: 384.
Tones: Total 319 Tones.
Keyboard: PHA-50 Keyboard
Pedals: Progressive Damper Action.
Speakers: 12 cm (4-3/4 inches) x 2.
Rated Power Output: 30 W x 2.
Volume Level (SPL): 106 dB.
Headphones: Effect: Headphones 3D Ambience.
Touch Sensitivity: Key Touch: 100 types, fixed touch.
Master Tuning: 415.3 to 466.2 Hz.
Temperament: Selectable temperament key, 10 types (Equal, Just Major, Just Minor, Pythagorean, Kirnberger I, Kirnberger II, Kirnberger III, Meantone, Werckmeister, Arabic).
Effects: Ambience, Brilliance.
Internal Songs: Other: Total 353 songs, US: Total 363 songs.
Playable Software: Standard MIDI Files, Audio File.
Recordable Software: Standard MIDI Files, Audio File.
Display: Graphic LCD 132 x 32 dots.
Power Supply: AC Adaptor.
Power Consumption: 9 W.
Weight: 50.7 kg, 110 lbs 1 oz.
Similar Products
By The Brand
Explore By Categories