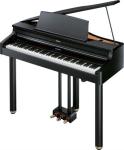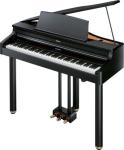 Roland Digital Piano Rg 1 F
All Orders Will Be Dispatched in Next 24 Hours.
line_style Category : Digital piano
star Rating: 5
nature (SKU : prod_1807)
local_shipping Free Shipping
sync_disabled(discontinued)
Description
Roland Digital Piano RG-1F:
The Roland Digital Piano RG-1F is improved with Roland's invention SuperNATURAL Piano technology. Three key elements are dramatically become: velocity response, note decay and key-range operation. Where early sample-based technology generated coarse "stair-step" gaps in velocity and key range and unnatural looping in note sense SuperNATURAL bridges the gaps with perfectly soft and natural three-dimensional sound and response.
---
Product specification:
Excellent SuperNATURAL Piano engine presents a current level of authenticity and elegance.
A piano Designer characteristic supports customization of sounds.
PHA III Ivory Feel Keyboard with Escapement.
Smooth mini-grand body with a lid that can be removed and closed.
High-impact Satin Black end with gold-cuffed legs.
Traditionally styled pedals with regular damper action and half-pedal recognition.
The fair control panel that's easy to use.
Lightweight, fall-safe lid with the lock device.
Streamlined Design
The RG-1F claims a streamlined mini-grand shape with a classy lid that can be started and closed. Its front panel is cleanly designed and requesting to use. The gorgeous Satin Black finish mixtures beautifully with any room.
PHA III Ivory Feel Keyboard with Escapement
The PHA III Keyboard with Escapement appears highest comfort, playability and response. PHA III develops key repetition and correctly conveys dynamic, velocity-based tonal changes. The escapement mechanism recreates the actual "click feel" of a grand-piano keyboard, which especially improves expression when playing pianissimo.
Progressive Damper-Action Pedal
The RG-1F features Roland's newly Progressive Damper Action pedal mechanism, which almost replicates the pedal response of acoustic pianos. When you first begin to reduce the damper pedal it suggests lighter resistance, but as you press it further, the resistance increases just as it would on an acoustic piano when the dampers begin to move up from the strings. This new design also allows more precise "half-pedalling" response, where the depth of the damper pedal supports subtle control of the sense of the tone.
Fall-Safe Lid
The RG-1F's lightweight lid is comfortable to open and close. It's implemented a lid lock to preserve to the lid from closing accidentally.
Product Information:
Brand: Roland
Model Number: RG-1F
Keyboard: 88 keys
Touch Sensitivity: Hammer Response: Off, 1-10, Touch: 100 levels, fixed touch.
Keyboard Mode: Whole, Dual, Split.
Piano Sound: SuperNATURAL Piano Sound
Maximum Polyphony: 128 voices
Tones: 337 tones, Conforms to GM2/GS/Xglite
Temperament: 8 types, selectable temperament key
Stretched Tuning: Off, Preset, User tuning.
Master Tuning: 415.3 to 466.2 Hz.
Transpose: Key Transpose: -6 to +5 (in semitones), Playback Transpose: -6 to +5 (in semitones)
Tempo: Quarter note = 10 to 500
Volume: 11 levels
User Program Internal: 36
User Memory: Maximum 99 User Program Sets
Track: 1 track
Song: Recorder section: 1 song
Note Storage: Approx. 30,000 notes
Resolution: 120 ticks per quarter note
Songs: Max. 99 songs
Internal Songs: 60 songs
Rated Power Output: 40 W x 2
Display: 20 characters, 2 lines LCD
Controls: Volume, Brilliance, LCD Contrast
Pedals: Damper, Soft, Sostenuto
Power Consumption: 95 W
Width: 1,420 mm, 55-15/16 inches
Depth: 730 mm, 28-3/4 inches
Opened Height: 1,270 mm, 50 inches
Closed Height: 890 mm, 35-1/16 inches
Weight: 75.0 kg, 165 lbs. 6 oz.
Similar Products
By The Brand
Explore By Categories