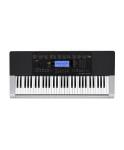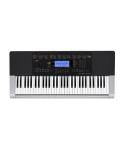 Casio CTK-4400 Musical Electronic Keyboard
All Orders Will Be Dispatched in Next 24 Hours.
offline_pin Brand :
Casio
line_style Category : Portable keyboard
star Rating: 5
nature (SKU : prod_1031)
local_shipping Free Shipping
sync_disabled(discontinued)
Description
Casio CTK-4400 Features
Standard, compact keyboard CTK-4400 is equipped with brilliant features. This keyboard is useful for all, especially those who like to play in a professional manner.
· 48 notes polyphony
· 180 preset rhythms
· Accompaniment patterns
· Piano type keys
· Connect external devices
· 152 lively songs
Piano style keyboard
The keys present in CTK-4400, resemble the keys of an acoustic piano. This offers perfect finger fit while playing the instrument.
Virtual Hall
The keyboard offers better musical experience and generates an acoustic effect. While playing the keyboard, you will feel the effect of the concert hall and it will generate a feeling of actually being there.
Audio in Jack
Using the audio in jack, players can use the keyboard, speakers for producing sound from other music players. Jamming with other artists is possible because of this feature present in CTK-4400.
Preset Scale
For suiting the classical music, you can change the scale/temperament of the keyboard.
Music Preset
Playing specific song is easy when the player uses the music preset feature. A Wide range of various musical genres can be covered by using this feature.
Warranty Conditions - 3 Years Manufacturing Warranty
Adaptor – Worth 395/- Rupees adaptor Included With CTK-4400.
The Casio CTK-4400 Musical Electronic Keyboard has been discontinued the new model has been launched click on the link to see new model Casio CT-X700 Electronic Keyboard
Similar Products
By The Brand
Explore By Categories