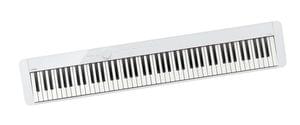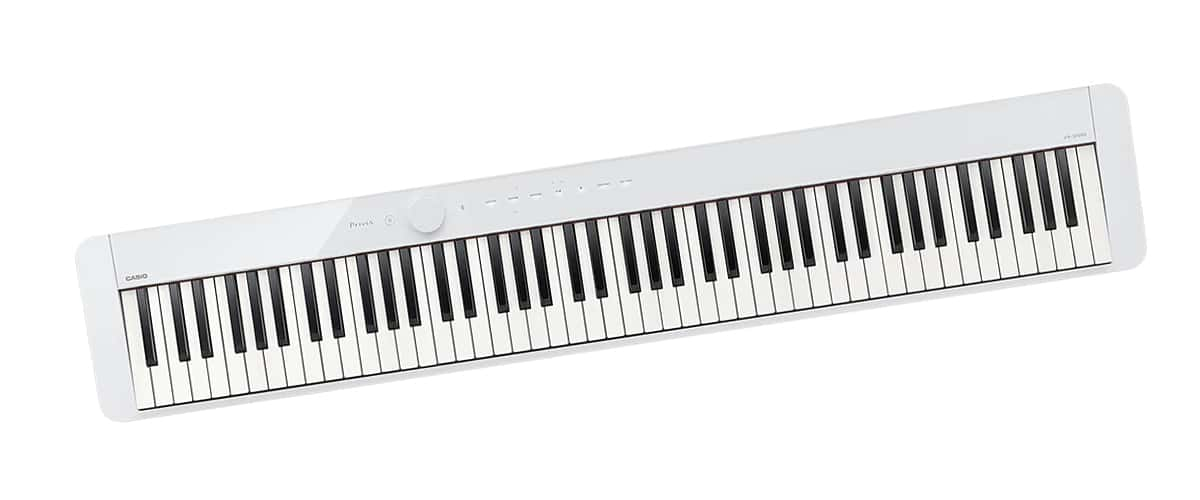 Casio Privia PX-S1000 White Digital Stage Piano
All Orders Will Be Dispatched in Next 24 Hours.
offline_pin Brand :
Casio
line_style Category : Digital piano
star Rating: 5
nature (SKU : Casio_1560935066632)
local_shipping Free Shipping
Description
Casio Privia PX-S1000 White Digital Stage Piano
The Casio PX-S1000 WE produce a cool new design into the Privia family of instruments, making intelligent technology a member of your musical life. The PX-S1000's outstanding design suits any room, any decor, and any mood. It is possible in either black or white surface, it is sleek, reflecting panel and unibody case evokes a comfortable acoustic grand, in a beautiful form that's almost larger than the keys themselves. The preferred touch of the PX-S1000 is thanks to the recently planned fully weighted Smart Scaled Hammer Action Keyboard which abandons a genuine and uncompromising piano touch with an, especially compact design. Casio's proprietary key scaling system generates the unique characteristics of individual of the 88 keys, while ebony and ivory key textures ensure positive playing in any climate.
The PX-S1000 highlights 18 Tones, including a breathtaking stereo grand piano. String resonance shows the harmonic relationships between vibrating strings, while damper resonance combines depth and richness. The PX-S1000's touch sensor controls are exhibited only when the power button is pushed and are simple to see and manage in any light. They disappear away when powered off, leaving only a clean, seamless top panel.
Privia pianos are now known for replicating the grand piano tone and feel in a small package.
---
Product Specification:
88-Key Digital Scaling recognizes a grand piano-like touch.

Slimmest hammer-action digital piano in the world.

Simplistic, fashionable design for superior playability.

Rich and powerful piano sound for a natural appearance.

Acoustic Simulator shows the real sound of a grand piano.

Key Off Response enables fast note repetition.

Simulated ebony and ivory keys with optimal fingertip fit for operating ease.

Connect via Bluetooth to your devices.

Chordana Play for Piano app presents users with a stylish and easy-to-use operation.
Product Information:
Brand: Casio

Model Number: PX-S1000 WE

Keyboard: 88-key piano keyboard

Duet: Adjustable tone range

Transpose: –12 to 0 to +12 semitones

Octave shift: –2 to 0 to +2 octaves

Number of Tones: 18 (17 full-keyboard tones + 1 low-range bass tone)

Maximum polyphony: 192 notes

Touch Response: 5 sensitivity levels, Off

Tuning: 415.5Hz to 440.0Hz to 465.9Hz

Temperament: Equal temperaments plus 16 other types

Sound Mode: Hall simulator (4 types), Surround (2 types)

Demo Song: 1

Built-in Songs 60

User Songs: 10

Song volume: Adjustable

Part On/Off: L, R

MIDI Recorder Functions: Real-time recording, playback

MIDI Recorder Number of Song: 1

MIDI Recorder Number of Tracks: 2

MIDI Recorder Capacity: Approximately 10,000 votes total

Recorded Data Protection: Built-in flash memory

MIDI recorder volume: Adjustable

Metronome Beat bell: Off, 1 to 9 (beats)

Metronome Tempo Range: 20 to 255

Metronome Volume Level: Adjustable

Bluetooth Version: 5.0

Bluetooth Supported Profile: A2DP

Bluetooth Supported Codecs: SBC

Wireless Output: Bluetooth Class 2

Transmission Frequency Range: 2402 to 2480 MHz

Maximum Wireless Output: 4 dBm

MIDI: 16-channel multi-timbre receive

Phones jacks: Stereo mini jacks (3.5mm) x 2

Power: 12V DC

Voltage: 1.3V (RMS) MAX

USB port: Type B

Damper Pedal jack: Standard jack (6.3mm)

Pedal Unit jack: Proprietary jack

Acoustics Amp output: 8W + 8W

Speakers: 16cm x 8cm (oval) x 2

Batteries: 6 AA-size alkaline batteries

Power Consumption: 10W

Dimensions: 132.2 (W) x 23.2 (D) x 10.2 (H) cm

Weight: Approximately 11.2kg (24.7 lbs) (without batteries)

Accessories: SP-3 Pedal, AC Adaptor (AD-A12150LW), Music Stand;
Similar Products
By The Brand
Explore By Categories