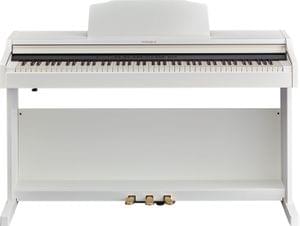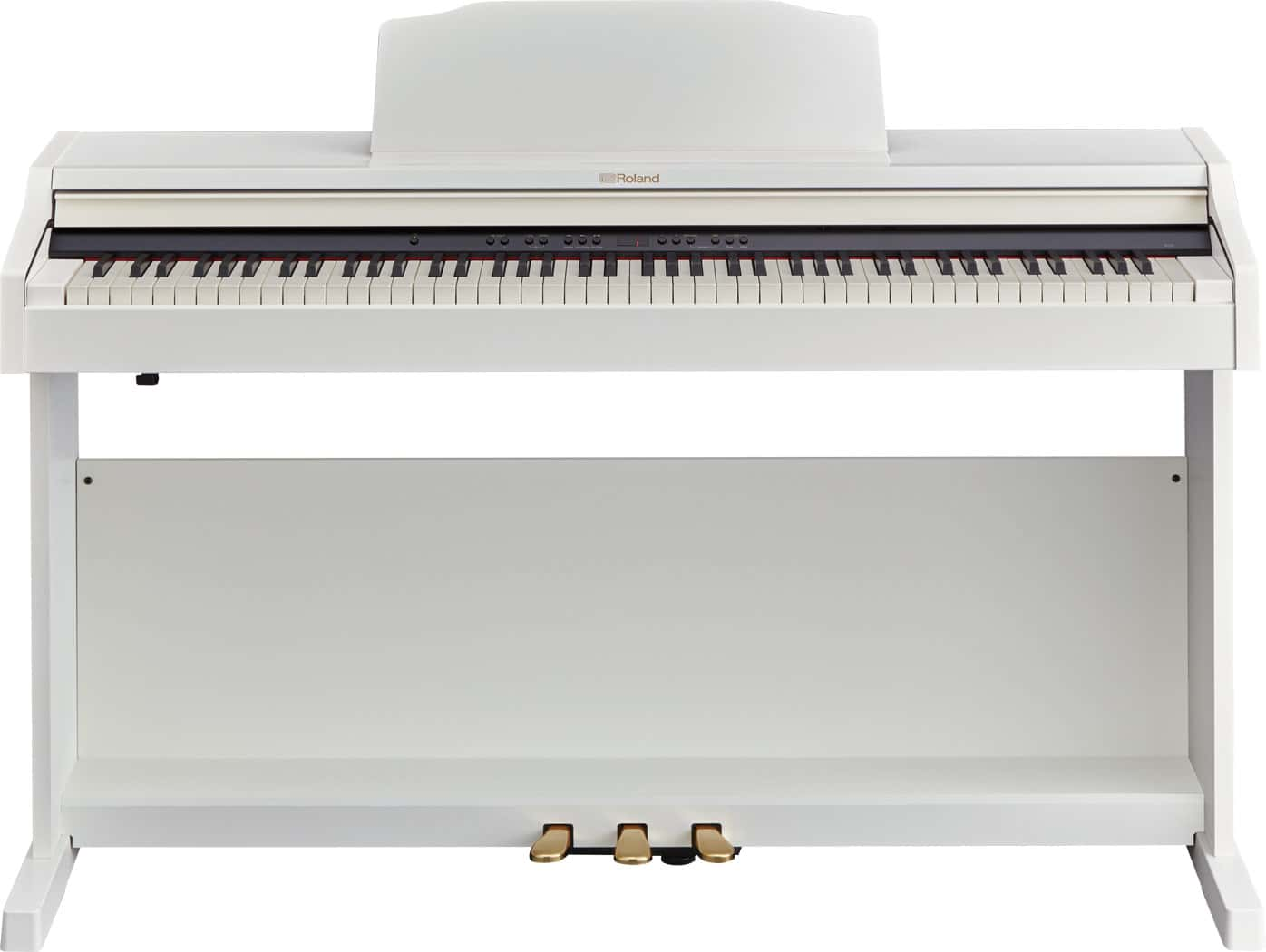 Roland RP501R 88-Keys White Finish Digital Piano
All Orders Will Be Dispatched in Next 24 Hours.
money_offMRP: ₹ 97,500
new_releasesDiscount Available (8 %)
loyaltyYour Price : ₹ 89,700
line_style Category : Digital piano
star Rating: 5
nature (SKU : Roland_1606897236415)
local_shipping Free Shipping
Description
Roland RP501R 88-Keys White Finish Digital Piano
---
Roland RP501R 88-Keys White Finish Digital Piano is perfectly designed to provide you a wealth of practice-friendly features to accommodate growing players with Bluetooth connectivity to your Android/iPad and onboard rhythm accompaniment. Best entry-level pianos, it satisfies discerning performers with a powerful keyboard feel and genuine responsive sound. RP501R loaded with a great combination of premium features with a compact yet strong cabinet at a competitive price.
---
Always Motivated with Authentic Piano Expressive Feel and Sound
Roland RP501R features onboard technology derived from a flagship digital piano will always inspire you. Its sound engine is powered by Roland SuperNATURAL technology to produce an expressive, rich tone that you demand from a premium acoustic grand piano, while a built-in powerful array of speakers will ensure the sound files the room. The more your styles grow, the Ivory Feel PHA-4 keyboard responds to each nuance while you touch, plus the Progressive Damper Action pedal allows you to perform traditional techniques with all the feeling of an acoustic pianist.
---
Learn Faster and Sound Better with 72 Backing Styles, 305 Tones, and Educational Features
As we all know that old pianos produce just one tone, which is really frustrating while you stilling finding your voice. It captures the genuine sound of an old acoustic piano, it also gives almost 300 additional sounds that allows you to create your idea. With Onboard Rhythm, features make your practice session more appealing, which allows plays with your 72 72 set backing styles (jazz, Latin, pop, etc.). Additionally, Bluetooth MIDI and USB connectivity allow you to connect with your smartphone or tablet provide access to the world of great piano apps such as Roland Piano Partner 2.
---
Lightweight, Low Maintenance Cost and Allows Practice When It Suits You
Usually, Acoustic Pianos are very heavy and high maintenance cost, or if you want to practice at night then maybe trouble other people close by. This Roland RP501R is a great solution for all old piano problems. Its weight is just 41 Kg easily carry by tow persons, while it covers only 432mm spacing won't swamp your home. The high-level digital piano sound engine always ready to play save your time and money. Plus if you want to practice at midnight, its headphone options and controllable volume allows you to practice independently without disturbing neighbors, amazing, rich sound of headphones 3D ambiance effect.
---
Practice-Friendly Features with Kick-Start Your Piano Journey
As a beginner, it's very difficult to stay engaged while you play the piano, but RP501R is equipped with additional features that make your practice more enjoyable. Including Audio and MIDI playback offers you to jam along with preferred songs as they play through piano speakers, plus its Twine Piano mode lets you practice, perform, or learns with a duet partner or teacher. If you want to learn songs then install the piaScore app for access to 70,000+ classical music scores, or download it to your tablet from Sheet Music Direct.
---
Product Features:
Roland's excellent digital technology at the attractive and affordable piano.

SuperNATURAL Piano gives the genuine tone of an acoustic grand piano

PHA-4 Standard keyboard equipped with high-resolution touch sensing for responsive and expressive play.

Progressive Damper Action pedal allows constant response for half-pedaling.

3D Ambience Headphones effect gives a multi-dimensional sound sense when using headphones.

Connect to a world with Roland's Piano Partner 2, which motivate daily piano learning and makes play pleasure.

Extensive onboard song library including scale-learning songs, with recording and metronome functions to boost learning and practice.

Advanced onboard Rhythm feature with creative accompaniment (72 different rhythm styles, plus 6 pianist styles).

Space-saving cabinet with a choice of White finish.

---
Product Details:
Brand: Roland

Model Number: RP501R

Colour: White
KEYBOARD:
Keyboard: 88 keys Touch

Sensitivity: Key Touch: 5 types, fixed touch

Keyboard Mode:

Whole

Dual (volume balance adjustable)

Split (split point adjustable)

Twin Piano
Damper (Progressive Damper Action Pedal, capable of continuous detection)

Soft (capable of continuous detection)

Sostenuto (function assignable)

---
SOUND GENERATOR:
Piano Sound: SuperNATURAL Piano Sound

MIDI Format: Conforms to GM2, GS, XGlite

Max. Polyphony: 128 voices

Tones:

Piano: 11 tones

Other: 305 tones (including 8 drum sets, 1 SFX set)

Stretched Tuning: 2 types (Always On)

Master Tuning: 415.3 66.2 Hz (adjustable in increments of 0.1 Hz)

Transpose: Key Transpose: -6+5 (in semitones)

Effects:

Ambiance (Off, 10 levels)

Brilliance (21 levels)

Only for Piano Tones:

Damper Resonance (Always On)

String Resonance (Always On)

Key-Off Resonance (Always On)

---
METRONOME:
Tempo: Quarter note = 10--500 (When rhythm function turns on: Quarter note = 20--250)

Beat: 2/2, 0/4, 2/4, 3/4, 4/4, 5/4, 6/4, 7/4, 3/8, 6/8, 9/8, 12/8

Volume: 100 levels

---
SMF RECORDER:
Parts: 1 part

Save Song: Standard MIDI Files (Format 0)

Songs

Internal memory: Max. 10 songs

External memory: Max. 99 songs

Note Storage: Approx. 30,000 notes

Control

Song Select

Play/Stop

Rec

Rewinding

Fast-forwarding

Top of song

Part Mute

Tempo

All Songs Play

Count-in

Song Balance

Tempo: Quarter note = 10äóñ500 (When rhythm function turns on: Quarter note = 20-250)

Resolution: 120 ticks per quarter note

---
RHYTHM:
Rhythms: 72 types x 2 variations

Controls:

Rhythm Select

Start/Stop

Sync Start

Intro/Ending

Fill In

Variation

Leading Bass

Auto Fill

Rhythm Part
AUDIO:
Playback: File Format: Audio File (WAV 44.1 kHz, 16-bit linear format)

Control:

Song Select

Play/Stop

Rewinding

Fast-forwarding

Top of song

All Songs

Play

Song Balance

Center Cancel

---
INCLUDED:
Owner's manual

Assembly manual

Leaflet USING THE UNIT SAFELY

AC Adaptor

Power Cord (for AC Adaptor)

Headphone hook

Music rest

1-year manufacturer warranty
Similar Products
By The Brand
Explore By Categories