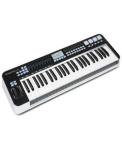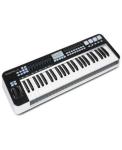 Samson Midi Keyboard Graphite 49 Usb Midi Keyboard Contraller
All Orders Will Be Dispatched in Next 24 Hours.
money_offMRP: ₹ 22,897
new_releasesDiscount Available (10 %)
loyaltyYour Price : ₹ 20,607
line_style Category : MIDI KEYBOARD
star Rating: 5
nature (SKU : prod_1019)
local_shipping Free Shipping
Description
Samson Midi Keyboard Graphite 49 USB Midi Keyboard Controller:
The Samson Graphite 49 USB MIDI Controller delivers you all the performance and production controller. you require to get the utmost out of your music software. It connects an intuitive 49-key semi-weighted keyboard with a speciality set that is both helpful and accessible.
---
Feels More Like An Instrument
The Graphite 49's semi-weighted keyboard presents musicians with a sensitive and powerful platform that is composed to feel more like an instrument than a controller. It comes implemented with velocity-sensitive keys that perfectly attract the dynamics of a performance.
Room To Create
The Graphite 49 exactly their own is to appropriate up to 4 zones on the keyboard for creating splits and layering sounds. This function allows different sounds to be attached to separate sections of keys for a totally personalized setup. With the keyboard divided into segments, the Graphite 49 lets you control 2, 3 or 4 unique voices concurrently.
Trigger Happy
The Graphite 49 features 4 great velocity-sensitive trigger pads with aftertouch that can be quickly programmed and selected. Use them to tap out drum beats, cue one-shot units or start and stop series. With such versatility, the trigger pads are an important performance and recording point of the Graphite 49.
Elements Of Design
It is created for optimal playability whether it's arranged on a solid surface or mounted to a keyboard platform. Its smooth, angled top panel suggests easy viewing in any environment.
Product Information:
Brand: Samson
Model Number: Graphite 49
49-key semi-weighted keyboard with aftertouch.
A great LCD display produces real-time feedback.
Adds MIDI Out, USB and support pedal connections.
4 zones for performing splits and layering sounds.
Flexible velocity curve for both keys and pads.
iPad and USB bus powered.
Bundled with Native Instrument's Komplete Elements software.
Compressed design, accurate for live performance and studio applications.
Dedicated Transpose and Octave switches, Pitch Bend and Modulation wheels.
9 programmable faders, 8 encoders and 16 buttons for a hands-on switch over your DAW and virtual instruments.
Similar Products
By The Brand
Explore By Categories