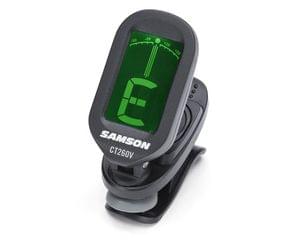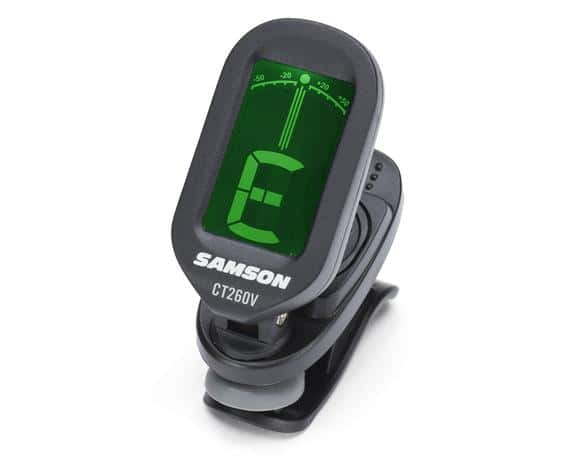 Samson CT260V Clip On Chromatic Tuner
All Orders Will Be Dispatched in Next 24 Hours.
money_offMRP: ₹ 831
new_releasesDiscount Available (1 %)
loyaltyYour Price : ₹ 823
line_style Category : Tuners
star Rating: 5
nature (SKU : SAMSON_1600512068734)
local_shipping Free Shipping
Description
Samson CT260V Clip-On Chromatic Tuner
---
Samson CT260V Clip-On Chromatic Tuner is supremely designed to sustain your instruments sounding any lighting environment and performance-ready at all times, it features a powerful vertical LCD. A double 360-degree ball-jointed clip stems from the rear of the tuner, providing you to view the display at any angle. Additionally, offers easy Auto On or Off features. However clever design helps to deliver it a tuning accessory that players will want in their gig bag. The display contributes a regular, real-time response for excellent tuning accuracy. The Tuner attaches safely to the headstock of your bass or guitar for hands-free tuning. Plus, an automatic power-off when the display is located in the Down position or after 5 minutes of inactivity.
---
Product Features:
Vertical LCD.

Allows real-time response for tuning accuracy.

Chromatic turning mode for basses, guitars and more.

Combined clip with a 360-degree movement for easy viewing.

Auto On or off features.

Powered by a included single CR2032 battery.

---
Product Details:
Brand: Samson

Model Number:

CT260V

Type: Clip-on

Tuning Mode: Chromatic (Auto)

Tuning Range: A0 27.50 Hz - C8 4186 Hz

Tuning Precision: 1 cent

A4 Range: 440 Hz

Display: LCD

Input: Piezo Sensor (Clip)

Power: 3V (CR2032 lithium battery)

Power Supply: CR2032 lithium battery

Weight: 68 gm

Dimensions: 48 x 44 x 27 mm

1-Year manufacture warranty
Similar Products
By The Brand
Explore By Categories